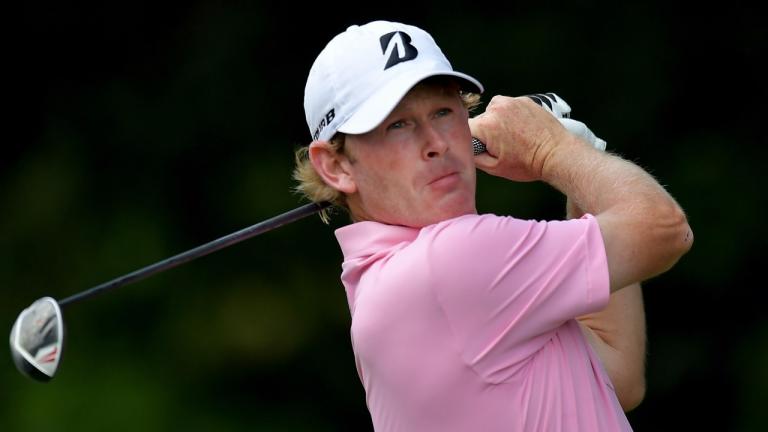 Sweet-swinging Brandt Snedeker started the third round of the Safeway Open today with a three-shot lead. He birdied the last three holes to end the day in the premier wine country of Napa Valley at the North Course of the Silverado Resort and Spa with the same margin, this time over Kevin Tway. Snedeker is vying for his tenth PGA Tour win. The younger Tway–who looks like his dad, who won eight PGA Tour tournaments, one of them being the 1986 PGA Championship–is still trying to bet his first win on this Tour. He's come close, knocking at the door. But a three-shot deficit against Brandt Snedeker will be tough to overcome.
Silverado is such a beautiful place to play golf, with near-perfect, warm weather this time of year. This golfing resort has two championship golf course, with the other being named the South Course. Both meander through tall evergreens and pines that are everywhere. It is a convenient place for the players because they can stay at the resort and never have to drive a car the whole week, that is, unless they want to frequent the wineries for a little wine tasting.
I won the first PGA Tour tournament at Silverado, which used to have the name Silverado Country Club and Resort. It was 1968 and the tournament was named the Kaiser International. I also won at Silverado on the Senior Tour (now Champions Tour) in 1994 in what was named The Transamerica. It was a special win for me in that my daughter Christy caddied for me.
The PGA Tour rarely has tournaments on the regular Tour and Senior/Champions Tour at the same venue. In fact, for a long time, Billy Caspar and I were the only two PGA Tour players who won on both tours at the same venue, although we won the regular Tour event on the North Course and the Senior Tour even on the South Course. That's keeping some pretty good company, there. For many years, Billy was right there with Arnold Palmer, Jack Nicklaus, and Gary Player as the best players on the PGA Tour.
Today at Silverado, the wind picked up in the afternoon. It seemed to raise the average score nearly two strokes. This same 15-20 mile-per-hour wind is forecast for tomorrow's final round. But Snedeker seems to be an excellent wind player with his well-timed, no-nonsense golf swing and deft putting touch. It is easy for him to keep the ball low in the wind. I expect Brandt to nab his tenth win tomorrow on the PGA Tour.