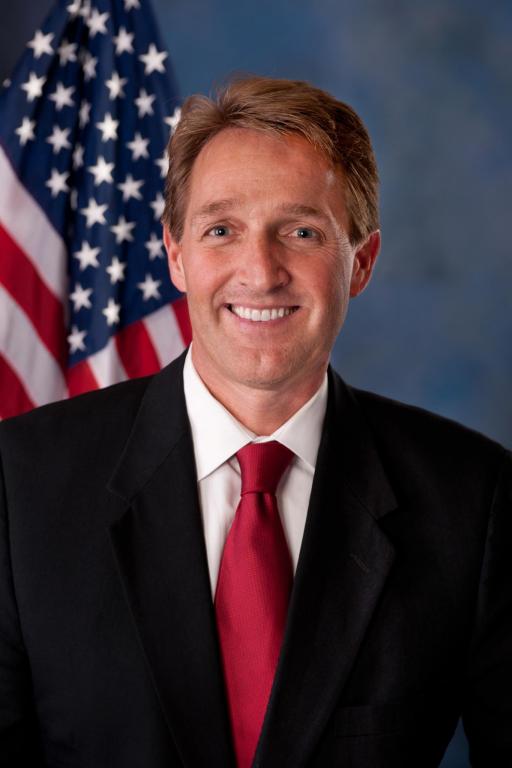 Our Arizona, Republican, Senator Jeff Flake made a surprising announcement in October last year that he would not run again for his position as senator, which ends in January, 2019. He explained that in the current political environment in the Republican party, his chances of winning were poor. Indeed, even Arizona Republican voters, a very red state, were not that supportive of him. Plus, he had written and published a book last year entitled Conscience of a Conservative: A Rejection of Destructive Politics and a Return to Principle. It was a call for the Republican Party to return to politically conservative values. It also was the first book to provide a comprehensive critique of Trumpism, and it was hard-hitting against President Donald Trump. Partly due this book, Jeff Flake was gaining support among especially independent voters.
Jeff Flake is the ideal kind of guy to venture into politics. He grew up on a cattle ranch in Snowflake, Arizona. He comes from a Mormon heritage of five generations of cattle ranchers. Jeff Flake is good looking and still young politically, at 55 years of age. He is intelligent, idealistic, and moral, being married to the same woman with whom he has had five children. I like Jeff Flake.
However, Flake talks a good game, but I don't think that's enough in the Trump era. Being conciliatory, which I strive to practice myself, will only go so far in the Trump era. For example, when President Trump recently mocked the testimony of Dr. Christine Blasey Ford before the Senate Judiciary Committee–in which she had alleged that presidential nominee for the Supreme Court, Judge Brett Kavanaugh, sexually assaulted her when they were teenagers–Flake joined a chorus of politicians who expressed their disapproval of Trump's behavior. Flake said it was "kind of appalling." No, Mr. Flake! The least you should have said was that "it was appalling." I think I would have said, "it was very appalling."
Last week a I wrote a post, "Should Jeff Flake Have Voted 'No'?" regarding the initial committee vote for Kavanaugh. Flake was the swing vote; whichever way he voted, that was how the judge's nomination was going to go. So, if Flake voted "no," President Trump would have had to withdraw his nominee and put forth another from his list. Jeff huddled in some Republican colleagues, especially Chris Coons, and with Jeff as their leader Jeff offered committee chairman Chuck Grassley, a Republican, a deal in which he and his friends would vote "yes," thus moving the nomination of committee and onto the Senate Floor for a vote by the entire Senate under on condition, that there be an FBI investigation of the allegation by Dr. Ford, an investigation that would last one week. Grassley accepted the deal, so Flake and Coons voted "yes."
But as I stated in that above post, written right after Flake did that, I questioned that it would be a comprehensive and fair investigation because background checks are under the authorization of the president. I suggested that President Trump cannot be trusted to orchestrate a comprehensive and fair investigation even though he claimed that was what he was doing. Donald Trump has proved himself to be such a notorious, serial liar that I believed from that moment on that this FBI investigation would be a farce, that the FBI would be "handcuffed," as it is being described, by the White House. I think time has proved me right.
I believed that in Kavanaugh's testimony to the committee, he showed himself to be unqualified to be a judge on the highest court in the land. He demonstrated a feisty temperament and a politically partisan viewpoint. I don't think that should be negated simply because he was trying to defend himself against an allegation of sexual assault, which is what a lot of American men were concluding as they saw the senate hearing. I believed that that was where senators should put their focus, and thus not on Ford's sexual allegation. As that turned out, it was just as expected–a "he said she said." Now, if the FBI had not been hamstrung by the Trump, it may have learned substantial testimony that Brett Kavanaugh had a heavy drinking problem in high school and college that may have included some pretty bad sexual misbehavior.
Today, the Senate Judiciary Committee of 21 members (ten are Democrats and 11 are Republicans) vote for final time on whether or not to confirm Judge Brett Kavanaugh's nomination for the one empty seat on the U.S. Supreme Court. Swing voter Susan Collins of Maine had given and lengthy speech this week and voted "yes" in the last vote. That was expected to clear the way for Kavanaugh in today's final vote.  Thus, it is expected that a slim majority of committee members along partisan lines will put Judge Brett Kavanaugh on the Supreme Court. Jeff Flake had said of Judge Kavanaugh's aggressive tirade in the hearing, "We can't have that on the court, we simply can't." Well, Flake said yesterday that he would vote yes today for Kavanaugh unless some big happens to change his mind. That seems a duplicity to me.
Jeff Flake is now suffering an even further decline in popularity with American voters because of what he has done regarding Judge Kavanaugh's nomination. Democrats, liberals, and independents (which latter is the largest segment of American voters) are trashing him a lot on social media right now. At this point, I'm doubtful that Jeff Flake has much of a future in American politics. And frankly, for me that's sad. I was hoping that maybe Jeff Flake could put together a third political party and run for president in 2020. However, he reportedly doesn't have many deep-pockets people to support him.