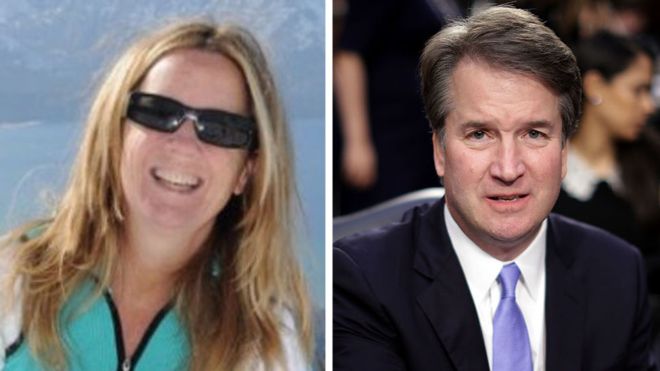 In the Senate hearing last week involving Judge Brett Kavanaugh as nominee to the Supreme Court, he said the word "beer" a lot of times. It's because Dr. Christine Blasey Ford had accused him of sexually assaulting her when they were teenagers at a house party drinking beer. Previous to the hearing, and afterwards, people who knew Kavanaugh back then have claimed that he was a heavy drinker of alcoholic beverages. Senators therefore questioned Kavanaugh about his beer drinking. Kavanaugh's response was to sometimes evade or turn the question around, asking the senators if they liked drinking beer. It was an obvious tactic, apparently coached by the White House, to dispel his past, cover it up, or characterize it as normal.  It was not normal.
Kavanaugh's best friend in high school was Mark Judge. They apparently drank a lot of beer together during their days at the elite, all-male, Catholic high school named Georgetown Prep located in an affluent district of the Washington DC area. Dr. Ford alleged that at that house party–which appears to have occurred in the summer of 1982–as she ascended stairs to the second floor of the house she was pushed from behind into a bedroom and the door was closed. There were three people in the room: her, Brett Kavanaugh, and Mark Judge. Kavanaugh then pushed Christine Blasey onto a bed, jumped on her, and started trying to remove her clothing. Radio music had already been on, and one of the boys had turned it up. Christine looked at Mark for help. She tried to scream, but Brett covered her mouth with his hand. Mark jumped on top of both people on the bed. Eventually, they all fell off the bed, and because of that Christine was able to escape and lock herself into the bathroom. She soon ran downstairs and exited the house. All during the time, Christine says the two boys were laughing. Alcohol was obviously a factor. Christine–15 years old at the time and attending a private, all-girls high school–says she had had only one beer.
Mark Judge was a skilled writer in high school. After graduation, he attended Catholic University in Washington, DC., and Brett Kavanaugh went to Yale University in New Haven, Connecticut. It appears that both young men continued their heavy drinking in college. In adulthood, Judge went on to become an author and a screenwriter.
Eventually, Mark Judge realized he had a drinking problem and that he needed to get help in overcoming it. So, he got into an Alcoholic Anonymous (AA) program. As therapy, he wrote his memoirs about his high school days entitled
Wasted: Tales of the GenX Drunk
. Published in 1997, it is now out-of-print. Of course, "wasted" is modern slang for drunkenness.
Wasted is very telling about Mark Judge and Brett Kavanaugh drinking heavily in high school. But it is also revealing about the culture in certain predominantly Caucasian parts of Washington D.C. It is about affluent parents who were not very responsible in guiding their children. Heavy drinking of alcohol was a big part of the culture for all.
Wasted mentions "Bart O'Kavanaugh." During the Senate questioning of Kavanaugh last week, he was asked if he was Bart O'Kavanaugh in Wasted. He replied that that was a fictional writing and, "you'll have to ask the author," or he may has said Mark Judge. Multiple people have now come forward and said that among a clique of boys at Georgetown Prep during the early 1980s, Brett Kavanaugh's nickname was "Bart O'Kavanaugh. They have even told about how he got that nickname. So, it appears that during the Senate hearing last week, Judge Brett Kavanaugh was trying to cover up his past about being a heavy drinker of alcohol during his high school days, when now Dr. Christine Blasey Ford, a professional psychologist and professor in California, claims Brett Kavanaugh sexually assaulted her. At issue is whether or Kavanaugh's memory could have been affected by his heavy drinking.
I don't know if this heavy drinking by at least teenagers during the 1980s still exists in affluent parts of Washington, D.C., but may be that  it's not "drain the swamp" in Washington of political corruption that tee totaler Donald Trump claims needs to happen most, but "drain the beer."