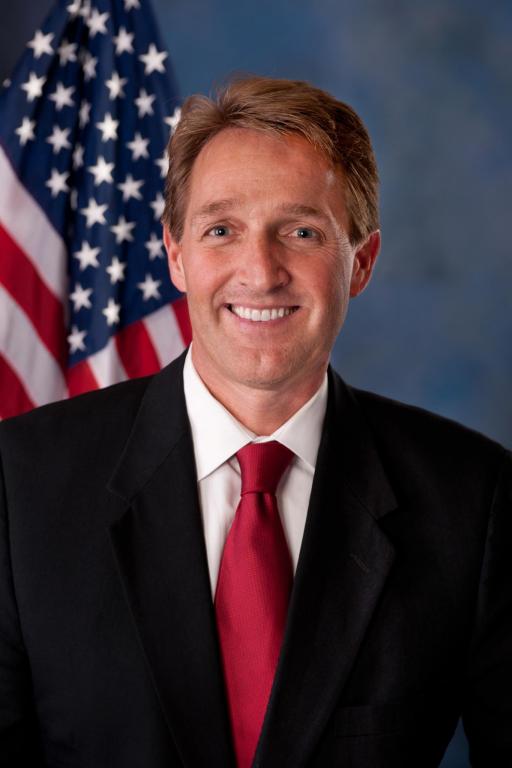 That was a tough decision for our Arizona Senator Jeff Flake to make yesterday. As a member of the Senate Judiciary Committee in its hearing of Dr. Christine Blasey Ford's allegations of sexual assault by Supreme Court nominee Judge Brett Kavanaugh, swing voter Flake decided to vote yes to move the decision out of committee to the Senate floor on one condition–that a one-week FBI investigation of the matter be taken immediately.
The problem with that is that President Donald Trump controls the investigation. He has constantly disparaged the Department of Justice and the FBI because of it's investigation of him regarding possible collusion between Russia and Trump's 2016 presidential campaign to get Trump elected. I don't trust Donald Trump at all. He is a notorious, serial liar. And that's what Flake's decision is all about–trusting that the FBI investigation will be done honestly, promptly, and thoroughly within the seven-day restriction.
Regardless of Dr. Ford's testimony yesterday, I think Judge Kavanaugh's testimony showed him to be unfit for the Supreme Court just like I believe Donald Trump was unfit for being the U.S. president. Kavanaugh demonstrated a lot of anger for a judge. He showed himself to be very politically partisan. As I said in my last post about this, he looked scripted and thus coached by the White House. Kavanaugh was very evasive with some of his answers, even refusing to answer on occasion. Moreover, he would implement distraction by turning the interview into him interviewing his interviewee. He asked Democratic Senator Sheldon Whitehouse of Rhode Island if he liked to drink beer. That question was obviously to present a picture that it is normal for high school guys to drink a bunch beer. He also asked the Democratic Senator Amy Klobuchar of Minnesota if she had ever "blacked out" from drinking alcohol. She looked at him perplexed and replied, "Could you answer the question, judge?" Kavanaugh answered, "Yeah, and I'm curious if you have." She answered, "I have no drinking problem, judge." He responded, "Nor do I." But they were not talking about the present, but when Kavanaugh was a young man. Her time then ran out.
After the hearing, to his credit Kavanaugh reportedly apologized to Klobuchar. She then revealed that one of her parents had a drinking problem, and that caused her to be be "careful about drinking." It was the same with me. She then told the media, "One idea here is that he simply was drinking more he was saying over this time period and that he didn't remember what happened, and so I was just simply trying to get at that." She added, " you have these people from parts of his life who have said that he was belligerent when he was drunk."
Sometimes, it's tough to be quick on your feet with a proper response to what someone says to you. But I think at least one of  times when Kavanaugh questioned the interviewee, he should have told something like this, "Mr. Kavanaugh, I will ask the questions here."
It appears so far that during high school and at least his early part of college, Kavanaugh had a serious drinking problem. His best friend in high school, Mark Judge, really had one. He has admitted this week to being a "recovering alcoholic" while reportedly being holed up in some seaside bungalow to keep low profile. But he has agreed to be interviewed by the FBI.
Kavanaugh may have been lying about multiple things. If true, that is really serious for a judge. And there are too many unanswered questions here. Will the FBI interview the third female accuser, Julie Swetnik? She has far greater allegations against Kavanaugh than Ford made, such gang raping at these house parties? But she is being represented by Michael Avenatti, who is also the lawyer for Stormy Daniels who is suing Trump. And Trump hates Avenatti, calling him a "low life." Avenatti is probably going to run for the Democratic nomination for president for the 2020 election. He told Trump, "let's go," meaning "bring it on." I don't know about Avenatti's credentials, but he could turn out to be a strong candidate to oppose Trump, dishing it out to him just as much as Trump ever can.
I can see that Senator Flake felt his decision would help the nation. But that's only so if we can trust that the FBI investigation will be on the up and up. It should therefore include interviewing Mark Judge, Deborah Ramirez, Julie Swetnik, and perhaps others who come forward this week with further allegations against Judge Kavanaugh.
So, due to doubt about the integrity of this FBI investigation, I think Flake should have voted "no" and thereby forced President Trump to recall his nominee and offer one more qualified. But Trump has a reason for keeping Kavanaugh that is more important to Trump than anything else about this matter. Kavanaugh has made recorded statements that seem to mean that a sitting president cannot be subpoenaed or charged with a crime. President Nixon tried during Watergate and it didn't work. Congress thereafter passed a law saying that could happen. But current justices on the Supreme Court can always try to overturn past laws.