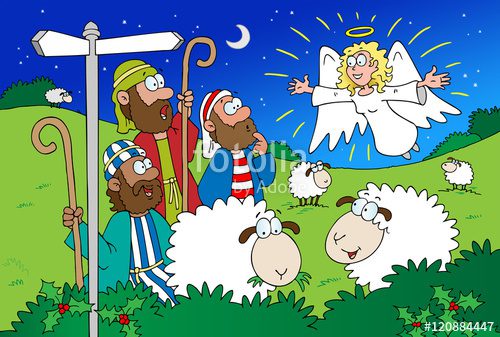 Isn't it amazing how Christmas is a day like no other–with so much joy, peace, and the spirit of giving? And that is what was so unique about Jesus. He is the one who Christmas is supposed to be about. It's because the early Jewish Christians believed he was the promised Messiah, viz., the Christ, who came to bless Israel and even the whole world.
The biblical tradition about Jesus' birth even emphasizes joy and peace. We read in the Gospel of Luke, in Luke 2.8-20 (NRSV), about Jesus' birth as follows:
"In that region there were shepherds living in the fields, keeping watch over their flock by night. Then an angel of the Lord stood before them, and the glory of the Lord shone around them, and they were terrified. But the angel said to them, 'Do not be afraid; for see–I am bringing you good news of great joy for all the people: to you is born this day in the city of David a Savior, who is the Messiah, the Lord. This will be a sign for you; you will find a child wrapped in bands of cloth and lying in a manger.' And suddenly there was with the angel a multitude of the heavenly host, praising God and saying, 'Glory to God in the highest heaven, and on earth peace among those whom he favors!'
"When the angels had left them and gone into heaven, the shepherds said to one another, 'Let us go now to Bethlehem and see this thing that has taken place, which the Lord has made known to us.' So they went with haste and found Mary and Joseph, and the child lying in the manger. When they saw this, they made known what had been told them about this child; and all who heard it were amazed at what the shepherds told them. But Mary treasured all these words and pondered them in her heart."
And the rest is, as they say, "history." Jesus grew up and became a carpenter. But when he was about thirty years of age, he went down to the Jordan River, was baptized there by his cousin John the Baptist, and began an itinerant ministry of proclaiming the kingdom of God, healing people, and even exorcizing demons on occasion. About three years later he accomplished the main part of his mission. He was unjustly condemned by the Jewish Sanhedrin (Council) at Jerusalem, executed by the Romans, and died on a cross to be as the angel had told the shepherds–"a Savior" from our sins for those of us who believe.
But that seemingly sad ending was not the end of the story about Jesus of Nazareth who was born at Bethlehem. On the third day after Jesus' deceased body was entombed, God raised him from the dead. He then appeared to his disciples multiple times over the next forty days. He proved he was not a mere spirit by constantly conversing and inviting people to touch him. He even ate food in their presence.
Then, forty days after his resurrection, Jesus took his disciples over to the Mount of Olives that overlooks the deep Kidron Valley and the Temple buildings on its other side. And we read in Luke's book of Acts, in Acts 1.8-11, "'you will receive power when the Holy Spirit has come upon you, and you will be my witnesses in Jerusalem, in all Judea and Samaria, and to the ends of the earth.' When he had said this, as they were watching, he was lifted up, and a cloud took him out of their sight. While he was going and they were gazing up toward heaven, suddenly two men in white robes stood by them. They said, 'Men of Galilee, why do you stand looking up toward heaven? This Jesus, who has been taken up from you into heaven, will come in the same way as you saw him go into heaven." They meant the yet future second coming of Christ.
Ten days later the Holy Spirit came upon the disciples with a loud noise, in great power, and with outward manifestation (Acts 2.1-4). A large crowd gathered. The Apostle Peter was then emboldened to preach to them the good news, the gospel, about Jesus. In this speech that Luke records, Peter says, "Jesus of Nazareth, a man attested to you by God with deeds of power, wonders, and signs that God did through him among you" (2.22). Here, Peter nullifies the later, erroneous teaching of the Church that Jesus was and is God. For Peter says he was "a man attested by God." That should prevent any Bible reader from thinking Jesus was a God-man. Furthermore, Peter says God empowered Jesus to do the mighty deeds he did, such as healing people. These powers were not intrinsic to Jesus, but derived from God, whom he often called Father.
Then Peter quotes from the Old Testament and applies it to Jesus by saying, "The Lord said to my Lord, 'Sit at my right hand, until I make your enemies your footstool'" (2.34-35). So, Jesus ascended to heaven and sat down with God on God's heavenly throne. Jesus was thereby rewarded for what he had done on earth by being granted the greatest possible place of honor. And when this happened, there was surely much joy and peace and praising God and Jesus by the angels in heaven, similar to what happened when the shepherds saw the christ child and heard the angels praising God.
My next blog post, I'll tell WHEN Jesus "will come" back "in the same way" as his disciples "saw him go into heaven." But really, I've already told when in this post. Can you figure out this riddle and what it means?