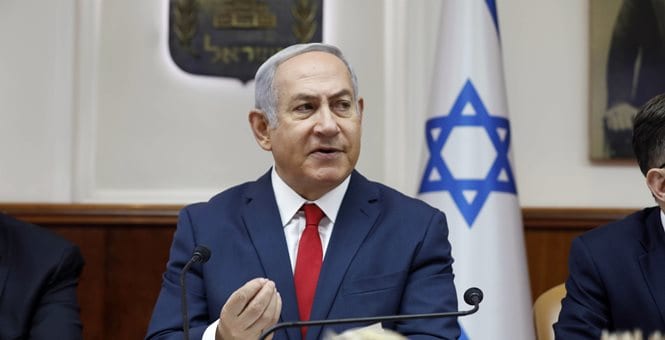 Israel's Attorney General Avichai Mandelblit, an Orthodox Jew, announced today that Prime Minister Benjamin Netanyahu will soon be indicated for corruption charges, which will include bribery, after a thorough, two-year investigation. Netanyahu replied like his friend U.S. President Donald Trump has to the special counsel Mueller's investigation of possible Trump collusion with Russians to win the presidential election–calling it "a witch hunt."
This is ironic because Netanyahu and Mandelblit are friends. In fact, Netanyahu mentored Mandelblit and chose him as his attorney general.
Moreover, Netanyahu is running for re-election, to be held on April 9. If he wins, it will be an unprecedented fifth term. And to garner further political support, he recently merged two small political parties to be part of his coalition. One of them has a terrible reputation. A Netanyahu political opponent compares it to the Nazi party.
It is Otzma Yehudit, which is Hebrew for Jewish Power. Its leaders are followers of Meir Kahane. He was a radical, New York, Orthodox rabbi. His Kach Party was outlawed in Israel during the 1980s. Moreover, the U.S. put Otzma Yehudit on its terrorist list in 1997. He was assassinated in a New York City Marriott hotel in 1990.
Otzma Yehudit advocates unilateral annexation of the entire West Bank to Israel, expelling all Palestinians from the West Bank and Israel, and Israel taking possession of the Temple Mount. Even the ultra-conservative, lobbying group in the U.S., the American-Israel Political Action Committee (AIPAC), condemns Otzma Yehudit as "reprehensible." Furthermore, ninety Orthodox rabbis, educators, and prominent Zionist leaders in Israel recently issued a declaration saying Otzma Yehudit is "a black eye to Israel and its standing in the world as as a moral and democratic state."
Sounds like Netanyahu is dragging Israel down in the eyes of the world. Does he need to go away? He sure has worsened the Israel-Palestinian conflict during his tenure.