[For an explanation of these 18 posts, see Part 1 published on 3/27/2019.]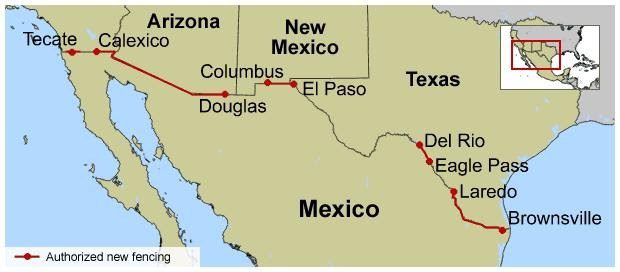 What about a U.S.-Mexico-Canada Virtual Fence?
The U.S.-Canada border was another concern by U.S. immigration authorities. This border is nearly 4,000 miles long. So, the northern and southern borders of the U.S., which are located adjacent to its only two neighbors, total nearly 6,000 miles in length. Constructing a physical barrier along both borders would be far too costly and difficult.
Many American politicians argued that walls or fences were a medieval solution outdated in our modern world. They suggested a technologically-sophisticated solution.
In September, 2006, the U.S. Department of Homeland Security (DHS) announced that it had contracted with The Boeing Company to build a "virtual fence" to guard the entire 6,000 miles of U.S. borders with Canada and Mexico. The system would consist mainly of video cameras, radar, electronic sensors with heat and motion detection, some fences and walls, and 1,800 towers. It would rely sparingly on aerial vehicles, such as drones, and be operated by the U.S. Customs and Border Patrol (CBP).
The U.S. federal government then contracted with Boeing to construct the "Secure Border Initiative," shortened to SBInet. Boeing said it could include securing the U.S. coastlines, but cost much more.[1] In late 2006, DHS admitted it could cost $30 billion.[2]
That announcement put a big damper on the idea as Democrats took control of Congress in the late 2006 elections. Critics alleged that SBInet would not work. Senator Patrick Leahy (D-VT) called it a "cockamamie idea."[3] Actually, it would replace the America's Shield Initiative project that was installed along the U.S.-Mexico border. This $500 million system consisting mostly of cameras and sensors had failed miserably. It was partly due to its technology not working properly. And the cost of the project originally was estimated at only $80 million. In early 2008, it was reported that illegal immigrants were easily getting through fences with torches, hacksaws, and ladders.[4] In early 2011, the DHS admitted SBInet suffered too many problems and abandoned it.
Multi-billionaire and non-politician Donald Trump became the U.S. president in 2016. The central feature of his political campaign was that he promised to stop illegal immigration across the U.S.-Mexico border by constructing a 40 to 50-foot high wall and deporting undocumented immigrants, which was about 12 million people. He eventually consented to it being a physical barrier such as a steel-slat, Bollard fence. But by late 2018, he was stymied from doing so by a Democrat-controlled House of Representatives. In early 2019, the King of Twitter argued in a tweet, "There are now 77 major or significant Walls built around the world, with 45 countries planning or building Walls. Over 800 miles of Walls have been built in Europe since only 2015. They have all been recognized as close to 100% successful." Such facts favored constructing such a barrier.
In my home state of Arizona, Mitch Ellis is a manager for the Buenos Aires National Wildlife Refuge located along the Arizona-Mexico border. In 2006, Ellis put a different spin on the problem of illegal immigrants crossing from Mexico into Arizona. He pointed at a Mexican rancher's steer that had crossed the border and was chewing grass on this U.S. refuge. Then Ellis quipped, "There's an illegal immigrant."[5]
In 2014, the International Organisation of Migration estimated that 40,000 people had died due to attempted migration since the year 2000.
Conclusion
If the world eventually abolishes all conventional weapons and therefore relies only on primitive weapons, as I believe the Bible indicates, walls and fences for defensive purposes will surely make even more of a comeback than they have recently. For Bible texts indicating primitive weapons in the latter days, see especially Ezekiel 38-39.
[1] Gleaned from three consecutive articles in The Arizona Republic, September 20-21, 2006.
[2] The Arizona Republic, November 16, 2006.
[3] The Arizona Republic, September 22, 2006.
[4] The Arizona Republic, April, 12, 2008.
[5] The Arizona Republic, August 26, 2006.