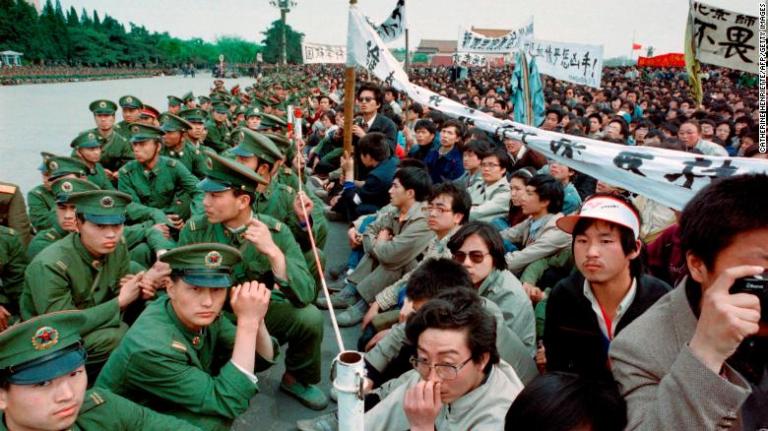 Tuesday was the thirtieth anniversary of the deadly Tiananmen Square Demonstration in Beijing, China. It was mostly Chinese college students demonstrating, calling for China to reform by adopting democracy. But the Chinese military fired their weapons randomly into the crowds, killing about 200 people in order to disperse them.
This month's Christianity Today magazine has an article about it by Dr. Jenny McGill of Indiana Wesleyan University. It features interviews of two Chinese dissidents who participated in the demonstration and survived, but barely. They are Zhang Boli and Zhoa Fengsuo. Both were thereafter placed on China's most wanted list, imprisoned, and eventually made their way to the U.S. as exiles.
McGill says both Zhang and Zhou "are also among at least 4 of the 21 most-wanted student activists to come to faith in Christ, with Zhang serving as the pastor of Harvest Chinese Christian Church, a multisite church with locations around the world, and Zhou leading Humanitarian China, which advocates on behalf of political prisoners in his homeland."
Zhang was an atheist due to believing in the atheistic propaganda imposed on the Chinese people by the Communist Party. After Tiananmen, he was hiding out for two years. An illiterate Christian woman gave him a copy of the Gospel of John in the Bible. She asked Zhang to read it aloud to her, which he did, and then she would explain it to him. He says, "In about a year, I became a Christian."
Zhang informs, "Before 1989, China had about 5 million Christians. Estimates now range from 50 million to 80 million."
After Tiananmen, Zhou experienced a long conversion process of faith in Jesus. After arriving in the U.S., one day he randomly popped into a church in San Antonio, Texas, merely to celebrate silently the anniversary of the Tiananmen demonstration. Still an atheist, he then began to question if there is a god. He said the church folk there were so friendly to him that it made a lasting, positive impression.
One of them continued writing to Zhou, even though he was living in Chicago. He would ask Zhou in those letters, "Are you ready to believe in Jesus?" Zhou says, "I could feel this void in my heart." Sometime later, he attended another church. The pastor gave an evangelistic call and said, "Are you ready to believe?" Zhou says, "I raised my hand. That moment I felt a big burden coming off my shoulders" as he believed.
Zhou says of the Tiananmen demonstration and massacre, "the movement was mostly spontaneous, an outcry from people's hearts." Zhou reveals, "The growth of Chinese churches, particularly house churches, is one of the most fundamental changes and important features in Chinese society in the last 30 years" even though the Chinese government constantly seeks to stifle Christian conversion. Zhou adds, "House churches are probably the only form of an independent organization not under government control."
Zhou explains, "International support from Western society, in particular from churches, is very important and encouraging to Chinese believers. . . . After the Tiananmen massacre, politically, China has been going backward. It's pretty clear that it cannot coexist with freedom and democracy. The world needs to be alerted to this."
Chinese sociologist Yang Fenggang is director of the Center on Religion and Chinese Society here in the U.S. at Purdue University. He says the underground house church movement has been growing for decades in China. Clandestine house churches operate illegally in China, thus apart from China's government-sanctioned Three-Self Patriotic Movement. Yang also says China will have largest number of Christians of any nation in the world by 2030.
For several decades I've been a donor of multiple Christian ministries to the Far East. I guess my favorite has been Far East Broadcasting Corporation. They specialize in short-wave radio broadcasts throughout the Far East. So, it is encouragement for me to learn that the Christian gospel is spreading significantly in this part of the world.