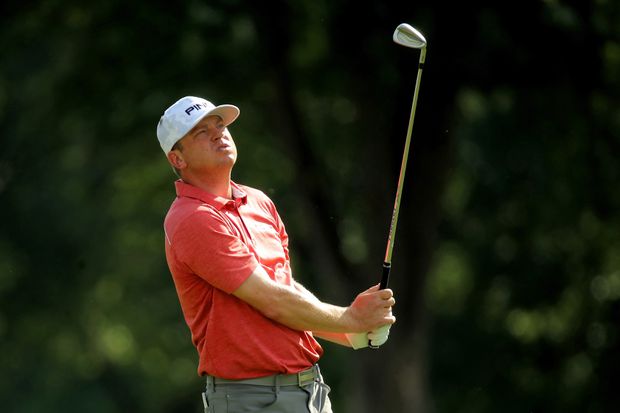 Thirty-six year old journeyman Nate Lashley just won his first golf tournament on the PGA Tour today. In fact, he ran away with it, winning the Rocket Mortgage Classic at Detroit Golf Club in Detroit, Michigan, by six strokes.
For years, Nate Lashley bounced around on lesser professional golf tours around the world, including the PGA Tour's Nationwide Tour that was later renamed the Web.com Tour, as it is today. Moreover, five years ago he was spending most of his time working as a real estate agent flipping houses just to make ends meet. Nate Lashley winning on the PGA Tour today, especially by six strokes, the biggest win margin of the year, is the epitome of "never give up."
No wonder this PING player won today, putting together a pair of 63s and yesterday. This win gives Nate a two-year exemption on the PGA Tour. And it gets him an exemption into next month's British Open, the last major of the year. Lashley is from Nebraska and currently lives in Scottsdale, Arizona, where I live.
Nate Lashley has experienced some severe tragedies in his life. When he was in college, he parents flew their airplane to watch him play in an NCAA regional event. On their return home, the plane crashed and his parents and girlfriend were killed. As one might imagine, Lashley says it took him many years to emotionally get over that loss. Then he has also fought injuries in his golf career, mostly recently a knee injury.
Nate Lashley's win today was the tenth win on the PGA Tour this year by first-time winners. That is unusual. And it demonstrates how deep is the talent on the PGA Tour.
I like to analyze swings on the PGA Tour. Nate Lashley has great rhythm in his golf swing. Once he addresses the ball, he keeps the club moving and jockeys for position with his feet and body and soon swings. Once he takes his stance, I don't think he takes more than five seconds or a little more before he begins his backswing. I like that. I wish I would have done it.
But the most noticeable feature of Nate Lashley's golf swing is that he cuts off his finish very early on his iron shots without it being what I would call a punch shot. His club on his finish often doesn't even get much farther than waste-high, as in this accompanying photo of him. Usually, when a golfer punches an iron shot like that, he or she takes a sizeable divot. But Lashley cuts off his finish without taking a big divot. That is what I call "a forced finish."
Even more surprising is that Nate Lashley does not turn the club face over at all after his makes ball contact and comes to his finish on most of his iron shots. That can result in much ball control. And that's what the player-commentators on TV were saying today, that Lashley is an excellent iron player.
We may be hearing and seeing a lot more of Nate Lashley on the big PGA Tour, where he just played only his 32nd golf tournament even he's thirty-six years old.