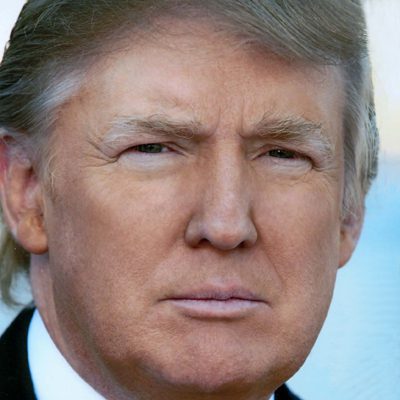 Journalist Tim Alberta's new book, American Carnage, is about Donald Trump taking over the Republican Party, thus making it "the Trump Party." Alberta interviewed about 200 people, many of them Republican politicians, as the basis for this thesis.
In this book, Alberta recalls a speech Donald Trump made during his election campaign in 2016 at the Republican-endorsing Liberty University in Lynchburg, Virginia. It is the largest of all U.S. Christian colleges. In this speech, Trump said literally "Two Corinthians" rather than the more common "Second Corinthians" as Americans are accustomed to hearing it pronounced. He had said of his administration if elected president, "We're going to protect Christianity. . . . Two Corinthians 3.17, that's the whole ballgame." What did he mean? It's a text about freedom. The Apostle Paul says therein, "Now the Lord is the Spirit, and where the Spirit of the Lord is, there is freedom." Actually, it is the School Verse.
When Trump said that, it drew laughter from the audience of 11,000 students. They had always heard it pronounced "Second Corinthians." So, they thought Trump had misspoken and thereby indicated he is a dunce when it comes to the Bible. Well they may have known the Bible better than Donald Trump does. But, actually, they were the dunces, as well as many others involved, and Trump turned out to be the smart guy.
It was then reported that advisers to two of Trump's top Republican rivals, Texas Sen. Ted Cruz and Florida Sen. Marco Rubio, were quick to point out the gaffe on Twitter
Even the media were dunces about it. Politico said Trump "bungled" the Bible reference. The Hill said he "slipped." ABC News alleged The Donald had "flubbed" it. Time magazine even asserted, "the correct way of saying it" is "Second Corinthians."
Trump later explained in an interview about his alleged mishap, "Tony Perkins wrote that out for me. He actually wrote out '2,' he wrote out the number '2 Corinthians.' I took exactly what Tony said, and I said, 'Well Tony has to know better than anybody.'" Tony Perkins is a leading Christian, president of Family Research Council, and a strong supporter of Donald Trump as president. Perkins verified that he had indeed done this.
Trump further explained, "It's a very small deal, but a lot of people in different sections of the world say two, and I've had many, many people say that to me. My mother, as you know, was from Scotland, and they say two." Trump is quite right about all of that.
Like these Liberty University students, I had always heard it pronounced "Second Corinthians." However, I have many Bibles in my library. Guess what! All of the major, modern versions of the Bible in my library have as titles "2 Corinthians." And they have "1 Corinthians" as the title of Paul's previous letter arranged in the New Testament. These versions include the NASB, NIV, NRSV, and ESV. In fact, my copies of the KJV have "I Corinthians" and "II Corinthians," which is the same as "1" and "2."
The first time I ever heard First Corinthians pronounced "1 Corinthians" and Second Corinthians pronounce "2 Corinthians" was by my very dear and deceased friend Bryan Smith of Edinburgh, Scotland. He was a traveling Bible teacher among the Plymouth Brethren for ten years. Then he changed from pretribulational belief about the Second Coming of Christ to posttribulational belief about it. It happened for him right about the same time it did for me.
Bryan Smith and I met at a PGA Tour Bible Study meeting at Charlotte, North Carolina. It was one of the four times that Evangelist Billy Graham spoke to us on the Tour, and I think that was the last of the four occasions. I met Bryan in the fellowship that often occurred after our meetings. We hit is off right away when we discovered that we both had a profound interested in biblical eschatology and that we both had changed recently from pretribulational belief to posttribulational belief. For Bryan, that caused him to be disfellowshipped from the Brethren, which had been his church affiliation all of his life. Pretribulationism was sacrosanct among the Brethren, since John Nelson Darby, one of the early founders of the Plymouth Brethren movement, had originated this teaching and made it central to his theological system. For, Darby is regarded as "the father of Dispensationalism."
Bryan Smith sometimes traveled to the U.S. and Canada where he ministered among Plymouth Brethren congregations. Sometime after we met, Bryan came to the U.S. and attended one of the tournaments on the PGA Tour. Since he had contacted me in advance about this, as the senior leader of the PGA Tour Bible Study I invited him to teach the Bible during our PGA Tour Bible Study meeting that week. Bryan did so, and he spoke on "1 Corinthians," calling it repeatedly "One Corinthians" and never "First Corinthians."
Incidentally, Bryan Smith also pointed out in his lesson that these two Corinthian epistles authored by the Apostle Paul are, to be exact, not correctly named. Bryan then drew out attention to 1 Corinthians 5.9, which says in the NRSV, "I wrote to you in my letter not to associate with sexually immoral persons, not at all meaning the immoral of this world, or the greedy . . . since you would then need to go out of this world." So, "my letter" indicates that Paul had written a previous letter to this church, so that it would properly be called "First Corinthians" or "One Corinthians," making the two letters we do have in the New Testament Second and Third Corinthians. I had not known that.
Bryan then showed us why this is important in understanding what we Americans call First Corinthians (yeah, I'm not a Scot though I have Scottish genes.) Bryan then identified various verses in this letter in which Paul cites a question the church had asked him. Apparently, that church had written Paul a letter in response to his previous letter, asking him some questions (e.g., 1 Cor 7.1, 10, 25; 8.1; 12.1; 16.1; cf. 5.1; 11.7). Now, in this First Corinthians, Paul was answering these questions.
I had thought at the time I heard Bryan say "One Corinthians"  that that was probably a Plymouth Brethren tradition. I never gave it any thought afterwards. But in succeeding decades, I  occasionally heard a Bible teacher say either "One Corinthians" or "Two Corinthians." Then, in 2016, when I read about Donald Trump's explanation about his mother calling it "Two Corinthians" and saying Scots and other people do that, I then became even better informed about the matter from Mr. Trump.
Those students and others who mocked Donald Trump about this also need to get better informed by knowing that Trump was right about this one.