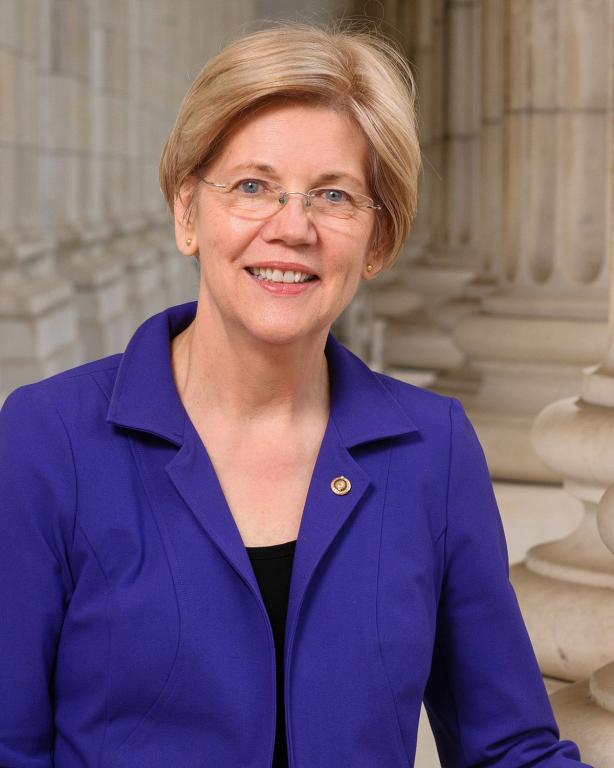 When Elizabeth Warren campaigns for the Democratic nomination for president, she says repeatedly, "there's God in every one of us." And sometimes she adds to this, "There's Jesus in every one of us." She claims to have a Methodist background. So do I. But that is not what the Methodist Church, nor the Bible, teaches.
The Bible begins by saying God is the Creator of "the heavens and the earth." And the Bible says multiple times that God, whose name is Yahweh (Heb. yhwh), is the "Creator" (e.g., Isaiah 40.28; Romans 1.25; 1 Peter 4.19). He "created heaven and what is init, the earth and what is in it, and the sea and what is in it" ("heaven" should be "the heavens;" Revelation 10.6). In fact, God as Creator is the first precept of biblical teaching. Accordingly, human beings are "creations" or "creatures" made by God. But this is not the same as saying "God is in every one of us" or the like.
My favorite verse in the Bible is in John 3.16. When I was a pro golfer on the PGA Tour and its Senior/Champions Tour (for thirty years full time), I often signed my autograph with "John 3.16" underneath it. This verse reads in the NRSV, "For God so loved the world that he gave his only Son, so that everyone who believes in him may not perish but may have eternal life." Accordingly, it is incumbent upon every human being who has heard the gospel (good news) about Jesus to believe in his dying on the cross for our sins. That is what "believe" in John 3.16 means. To see this, we need to go back.
A guy named Nicodemus came to Jesus one night, early in his itinerant ministry, to inquire of him. For we read, "Now there was a Pharisee named Nicodemus, a leader of the Jews. He came to Jesus by night and said to him, 'Rabbi, we know that you are a teacher who has come from God; for no one can do these signs that you do apart from the presence of God'" (John 3.1-2). Jesus acknowledged him as "the teacher" (Gr. ho didaskalos), meaning he was the most prominent Torah teacher, or one them, in Israel.
During antiquity, Jews generally believed they had God dwelling in them, as Elizabeth Warren says of all people, on the basis that they were Jews, "the chosen people" of God.
John the Baptist reflected this false notion of Jews about themselves when he was preaching and baptizing people in the River Jordan. He proclaimed to the people, "'Repent, for the kingdom of heaven has come near'. . . . But when he saw many Pharisees and Sadducees coming for baptism, he said to them, 'You brood of vipers! Who warned you to flee from the wrath to come? Bear fruit worthy of repentance. Do not presume to say to yourselves, 'We have Abraham as our ancestor;' for I tell you, God is able from these stones to raise up children to Abraham'" (Matt. 3.2, 7-9).
That is why Jesus later said to Nicodemus, "I tell you, no one can see the kingdom of God without being born from above" (John 3.3). Some versions translate "born again." Jesus explained that everyone must have a spiritual birth to enter the kingdom of God (vv. 5-8). He said to be born again is to be "born of the Spirit" (v. 8).
Jesus was not saying anything new. The prophets had foretold this necessity many times, further saying God would completely remake his people with his Spirit, giving them a "new heart," which would happen in the resurrection (e.g., Joel 2.28-29; Jer 31.33; Eze 36.26-27).
Jesus then explained to Nicodemus how one is born of the Spirit of God. He said, "just as Moses lifted up the serpent in the wilderness, so must the Son of Man be lifted up [in crucifixion], that whoever believes in him may have eternal life" (John 3.14-15).
Jesus later said to his disciples, "I am in my Father [God], and you in me, and I in you. They who have my commandments and keep them are those who love me; and those who love me will be loved by my Father, and I will love them and reveal myself to them. . . . Those who love me will keep my word, and my Father will love them, and we will come to them and make our home with them" (John 14.20-21, 23).
It is the same with being a "child" of God. People are creations of God but not children of God unless they have a relationship with God. For example, the author of the Gospel of John relates concerning Jesus and Jews, "He came to what was his own, and his own people did not accept him. But to all who received him, who believed in his name, he gave power to become children of God, who were born, . . . of God" (John 1.11-13).
The Apostle Paul's favorite identification of believers in Jesus is that they are "in Christ." He says this repeatedly in his New Testament letters. For instance, he writes to the Corinthian believers, "Therefore, if anyone is in Christ, he is a new creation" (2 Corinthians 5.17 NIV). Paul also teaches conversely, that believers having Christ indwelling them only on the basis that they have genuinely believed in Jesus as the Christ. Paul further writes:
"Examine yourselves to see whether you are living in the faith. Test yourselves. Do you not realize that Jesus Christ is in you?" (2 Cor 13.5).
"I have been crucified with Christ; and it is no longer I who live, but it is Christ who lives in me" (Galatians 2.20).
"I pray . . . that Christ may dwell in your hearts through faith" (Ephesians 3.17).
"Christ in you, the hope of glory" (Colossians 1.27).
In sum, people are creations of God, made in the image of God, but not children of God, with God thereby living in them, until they have been born again by the Spirit of God. When that happens, both God and Jesus come to dwell inside them.