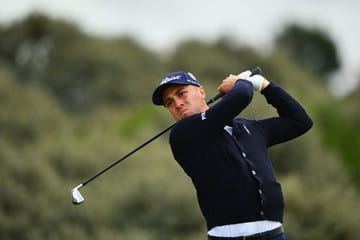 Long-hitting Justin Thomas, former #1 pro golfer in the world, turned it on today at Medinah Country Club in the Chicago area by shooting an 11-under par 61 to take a six-stroke lead into the final round tomorrow in the BMW Championship on the PGA Tour. He started the round today by birdying the first five holes and had two eagles on his back nine.
I used to play Medinah Country Club in the Western Open and once in the U.S. Open, in 1975. I always thought that was a good, tough golf course. But today, Justin Thomas made it look like a push over. My first year at Medinah in the Western Open (I think it was 1966), I finished alone in third place, two strokes behind winner Billy Casper.
As soon as I finished the tournament, I had to quickly board an airplane to Seattle, Washington, my boyhood home. From there, I drove a car to the Yakima Firing Range, near Yakima, to attend two-weeks summer camp in the U.S. Army. It was because, right before I started the PGA Tour as a rookie, I did six months active duty as an Army reservist and then had seven years of reserve duty after that. It included the requirement of a two-week summer camp each year, usually camped outdoors.
I arrived late at night, got very little sleep, and was standing in the mess line outdoors at about 6:30 AM, not knowing any recruits there. All of a sudden, a guy in line gave out with a blood curdling yell, dropped to ground with a thud. He was gnashing his teeth, bleeding in his mouth, swallowing his tongue, and his face was turning  frighteningly blue. I was a medic. So, I was supposed to be able to help this guy, right? Wrong! He obviously was an epileptic having a seizure, and I didn't have a clue how to help him. I had never seen this happen before.
Talk about feeling absolutely hopeless to help someone. Some other soldier in the line pulled out his wallet and forced it into the guy's mouth. That was good idea because it caused him to stop chomping his tongue and clogging his airway. Minutes later, his seizure subsided.
Talk about an immediate change in your life–going from playing pro golf in front of all those golf fans, being on television, being in hunt to win, and now this.
Medinah Country Club is a nice place–600 acres and three golf courses with a sprawling, old-fashioned-looking clubhouse of Byzantine architecture. In its history, its Course 3 has hosted five major golf championships and the 2012 Ryder Cup. Its length today is 7,657 yards, and the course rating is a whopping 78.3. That means Justin Thomas shot 17.3 strokes under the course rating. Justin Thomas broke the course record today with his 61, but shooting 17.3 strokes less than the course rating may be his greatest feat, especially in a PGA Tour tournament. I haven't noticed anyone in media saying anything about this, but I'm wondering if Thomas' 17.3 strokes under the course rating is the most ever shot under a course rating on the PGA Tour.
Back in the day, when you drove your car into Medinah Country Club there was an arch overhanging the road that may have said something like Welcome. And when you drove out of the club, the backside of that arch said "May Allah Be With You." This club was founded in 1924 by the Medinah Shriners. Medinah Country Club is located in the city of Medinah, named after the second most holy place in Saudi Arabia–Medina.
The Shriners International is a fraternal, philanthropic society established in 1870. It was named The Ancient Arabic Order of the Nobles of the Mystic Shrine. Today, it is simply called The Shriners. Its headquarters is in Tampa, Florida. It promotes "brotherly love." In association with Masons, Shriners have established over 200 temples around the world and several hospitals for children.
For most golfers who play Course 3 at Medinah Country Club, they feel like they need Allah to be with them since it is such a tough track. I wonder if Justin Thomas felt that.