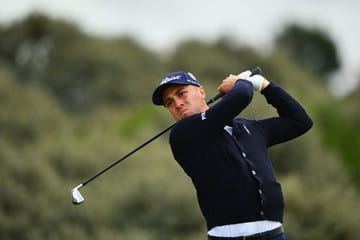 It's old hat now, but Justin Thomas turned his six-stroke lead yesterday into a three-stroke win in the BMW Championship at Medinah near Chicago. And he did it without his Saturday A-game, when he shot a course record 61. He made it an interesting competition when he bogeyed the 10th hole, which left him with only a two stroke lead. But he got back to work, birdying four more holes for a 68 and 25-under par 263 total.
Patrick Cantalay put the most pressure on Thomas, finishing alone at second. Hideki Matsuyama shot his second nine-under 63 of the tournament to finish alone at third. And Tony Finau continued his solid game, it seems every week, as he finished alone at fourth. Next week is the Tour Championship.
Justin Thomas is one of the fastest players on the PGA Tour. Yet this Tour continues to experience criticism for its slow play. That is something that happens periodically in the Tour's history. That is, the PGA Tour has gone through periods wherein it has been playing too slowly. In recent years, it's been pretty bad. I think it's been worse than it has ever been. Players now have coaches, psychologists, and all kinds of advisors, and some critics claim that this is part of the problem.
In my opinion, the #1 culprit for slow play on the PGA Tour is Commissioner Jay Monahan. I don't know him, and he may be a very fine fellow; but the buck stops at his desk. That is because the commissioner's job is running the Tour. The Tour has guidelines for slow play. The commissioner needs to see to it that Tour officials who work for him during tournaments are enforcing the guidelines for slow play. They obviously have not been doing a good job about this, and the fault, first of all, lies right at the feet of the commissioner.
If Commissioner Monahan says "politics" has something to do with this slow play, then there's something more wrong about the PGA Tour right now than we know about. In some respects, the PGA Tour is the envy of all major professional sports in the U.S. That needs to stay that way by solving this excessively slow play that is going on.
Golf is such a great game because you play it outdoors, its good exercise, its usually a beautiful environment, and it's a very social experience. Plus, you can play it longer according to your age than just about any other sport. So, golf has so many good things going for it.
But the worst thing about golf has always been that it takes a long time to play. It takes three-and-a-half to four hours to play a leisurely round of eighteen holes of golf if you walk and are a decent to average golfer and your group is not being held up hardly at all with players in front of you.
PGA Tour players are the greatest golfers in the world. And all of their many tournaments during the year are televised on national television. The PGA Tour has many millions of fans. Thus, PGA Tour players are an example to the golfing public in the way they play the game. If they take too much time to play their shots, that is not a good example for other golfers and therefore good for a game that is criticized way more than any other game for how long it takes to play.
Therefore, one of the most important concerns of the PGA Tour should be that its players set a good example in their pace-of-play. The main guideline that the PGA Tour has for its pace-of-play is that when it is a player's turn to play, he has forty seconds to hit his shot. Players should be prompt in getting their yardages for their full shots and be ready to play when it is their turn. On the greens, they should do likewise by reading their putts mostly prior to their turn to play when they are not away first on the greens.
This forty-second guideline has existed since way back when I used to play on the regular Tour. It was enacted sometime during the 1970s. I think it is a very good guideline for the Tour. During my 18-year full time career on the regular Tour, my group was warned for slow play a few times, and I was fined $500 once for slow play. Yes, on the regular Tour I was a slower player than average. But on the Senior/Champions Tour, I had speeded up my game.
When PGA Tour official sees a player exceeding this forty-second guideline on his shot, the official is supposed to speak to that player or that group and tell him or them of the infraction. The official often tells the player that he had a "bad time," meaning he exceeded the forty-second guideline, on a particular shot or shots. That is called a "warning." That player or that group is now "on the clock." That means that the official will now be following that group, watching for slow play, and anyone in that group that henceforth gets a "bad time" will suffer a financial fine. The player guilty of a second bad time must pay that money to the Tour's designated charity. The penalty for a third bad time used to be a one stroke penalty added to that player's score on the hole in which the third bad time occurred.
When an official warns a player or group for slow play, and the player or group does not get any bad times for the next few holes, that official usually tells the group at some point during their round that they are no longer "on the clock." All of what I've said so far regarding pace-of-play I think is still in the PG Tour's guidelines.
You can observe tournament coverage on television and see that nowadays, many players are breaking this forty-second guideline, yet PGA Tour officials are not bringing it to their attention by giving them with a warning. Of course, some players play fast, and some players play slow. Among the best players on Tour, Bryson DeChambeau and J. B. Holes seem to be the slowest players right now. Bryson has not been taking this criticism in the proper manner, defending himself. But last week, he did well by issuing a statement saying he would try to do better. All slow players on the PGA Tour need not only to work on their game but work on their pace-of-play.
The second most responsible source for slow play on the PGA Tour is its Tournament Policy Board. They hire the commissioner, so that he is answerable to them. If he's not doing his job properly, such as overseeing his officials in their application of the guidelines for pace-of-play, then the Tournament Policy Board need to up their game and see to it that the PGA Tour is a worthy model of playing the game of golf as it should be played.