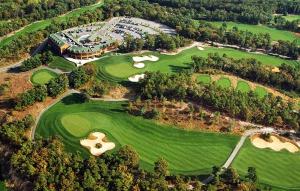 But what should we expect from ex-U.S. President Donald Trump, the biggest liar I have ever seen in my lifetime? As the Saudi-backed LIV Golf Invitational Series prepares this week to stage its third of eight planned tournaments this inaugural year at Trump National Golf Club in Bedminster, New Jersey, now private citizen Trump was interviewed about it by Rupert Murdoch's Wall Street Journal.
(Murdoch, who also owns Fox News that has been largely responsible for Trump's political victory, has recently abandoned Trump politically Murdoch's vast media empire, which also includes The Wall Street Journal and The New York Post. In the past few days, Murdoch came out trashing Trump in both of these two newspapers, saying he is unfit to be president again since Trump keeps on teasing that he will run for president in the 2024 election.)
Trump said to the Journal, "I think LIV has been a great thing for Saudi Arabia, for the image of Saudi Arabia. . . . I think the publicity they've gotten is worth billions of dollars."
The grotesque, Saudi-murder of journalist Jamal Khashoggi–sawing his body into parts–still looms in the minds of many people, especially in the U.S. since the Saudi dissident was living in Washington DC at the time and writing for The Washington Post. Yet Trump said, "I can say that from the standpoint of Khashoggi, that has died down so much." What has that got to do with justice Mr. Trump. Or do you believe in such a thing?
The LIV event at Bedminster this week will experience demonstrations by families of 9/11 victims. Those terrorist attacks were carried out by 19 Middle Eastern men, 15 of whom were Saudi citizens. Manhattan's Ground Zero is thirty miles from Bedminster. When Trump was asked about these upcoming demos, he said, "I don't know much about the 9/11 families, I don't know what is the relationship to this."
What! LIV Golf is sponsored by the Saudi wealth fund (Public Investment Fund) controlled by Crown Prince MSB, and 15 Saudis caused 9/11, which killed nearly 3,000 Americans. Trump says he doesn't know much about it because it doesn't affect him, which is all that matters to him.
Trump then turned his attention to the PGA Tour, which he likes to trash in recent years. His animosity to it started years ago, when the PGA Tour canceled its sixty-year old tournament at Doral in Miami, by then owned by Trump. They likely did it due to the growing toxicity of the Trump brand. Then the PGA of America canceled its PGA Championship scheduled to be held thus summer at Trump Bedminster for that very reason. After all, the House of Representatives had impeached Donald Trump twice and declared him responsible for the Capitol riot.
So, Trump said this week to the Journal that the PGA Tour has, as the Journal put it, "'taken advantage' of the players for quite some time and said there is 'tremendous anger' among players over the way they have treated by the Tour." I think that's a bunch of baloney. However, it does reflect some of Phil Mickelson's negative comments of the PGA Tour.
The top players on the PGA Tour have not been joining LIV Golf. Quite the opposite; they've been speaking out against it. Some LIV Golf members have now sued the PGA Tour for suspending them. But Justin Thomas, winner of the PGA Championship this summer, said they've sued "me" because "I am the PGA Tour."
What Justin Thomas meant is that the PGA Tour is its members. Thus, it is a very democratic association, something that I think Donald Trump does not believe in; that is, he doesn't believe in democracy as I stated on my blog multiple times when he was president, even early into his presidency.
The PGA Tour is run by Director Jay Monahan. He is hired to execute policy determined by the Tournament Policy Board, which controls the PGA Tour. Four of those Policy board members are PGA Tour players who are voted by the membership. If players have grievances, they are aired in players meetings which are conducted throughout the year at various tournament sites, and the Policy Board considers such grievances.
Tiger Woods has sounded off very strongly against LIV Golf. He says those PGA Tour members who have joined LIV Golf have "turned their back" on the opportunity the PGA Tour gave them to get to their position in golf, plus they turned their back on all the history of pro golf that the PGA Tour has developed.
Yet, it still remains to be seen what will happen in the future in professional golf. This disruption of LIV due to a bunch of wealthy Arabs who sit on oil underground is the biggest crisis pro golf has ever had. This conflict is surely headed for the courts, which likely will determine the future of pro golf, and not just here in the U.S. but around the world.