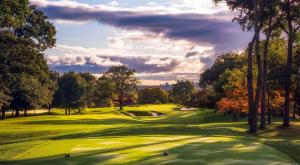 Defending champion Rory Mc Ilroy shot an 8-under par 62 today, which could have been in the 50s, to win the RBC Canadian Open by two strokes over Tony Finau. (Rory last won this tournament in 2019, and the tournament was canceled in 2020 and 2021 due to the COVID-19 pandemic.)
Justin Thomas, Rory Mc Ilroy, and Tony Finau were paired together in the last group. Thomas, Mc Ilroy, and Dustin Johnson–who resigned from the PGA Tour and played the LIV Golf tournament in London this week–have arguably been the three best golf pros in the world during almost the last decade. Thomas and Finau both shot 64s.
It was a thrilling finish the last nine holes. Mc Ilroy had a three-stroke lead. He kept driving long and hitting his irons shots close to the holes. But he missed a bunch of putts, including two of them about three feet long. The result was that he and Justin Thomas were tied for the lead with two holes to play, with Finau one back.
On the par four 17th hole, Thomas hit in the left rough twice and made bogey. Mc Ilroy drove in the fairway, hit his iron shot two feet from the hole, and made an easy birdie for a two-shot swing.
On the par four 18th hole, Justin made another bogey, Rory made another birdie with a five foot putt, and Tony Finau holed a monster downhill putt that took forever to get to the hole since the green was so fast. That put Tony–one of my favorite PGA Tour players–alone at second place, two strokes behind Rory's final total of 19-under par.
It was a really successful PGA Tour tournament that was well needed due to the strain on the PGA Tour of the competing, Saudi-backed LIV Golf Invitational Series that got underway for the first time this week. This intense rivalry is still the big talk in pro golf, and there are many unanswered questions about it.
The Saudis are being accused of sportswashing by luring PGA Tour players in an effort to clean up their poor reputation regarding human rights in their country and the murder of world-class journalist Jamal Khashoggi that is allegedly attributed to Saudi Crown Prince Mohammed bin Salman.
The difference in prize money is astonishing: the Canadian Open had some 150 players, with a typical PGA Tour purse, and it was contested for an $8.5 million purse, whereas the three-day LIV Golf tournament paid out $25 million to only 48 players.
Anyway, these RBC Canadian Open contestants and the many fun-loving Canadian golf fans made the PGA Tour look real good during this controversial period that is only going to get more combative between these two tours and surely wind up in court.