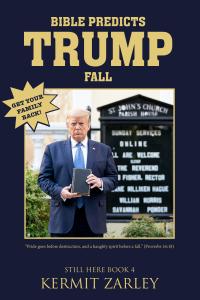 The Washington Post has just published a devastating article for Jeffery Clark and President Donald Trump entitled "New details emerge of Oval Office confrontation just three days before Jan. 6." This is a must-read for anyone interested in how Trump came to try to get Mike Pence to not certify the election results on Certification Day, January 6, 2021, while meeting with the entire 535 members of the U.S. Congress and thereby overturn the 2020 election result in which Joe Biden had won the election.
Jeffrey Clark was a mid-level attorney working in the Justice Department as acting head of its environmental division. He got an idea about how President Trump could overturn the election. It was that the Department of Justice would send letters to the swing states, starting with Georgia, claiming there was some election fraud and that they should create a slate of state electors who favored Donald Trump as winner of the election. Yet Clark had no evidence to support his claim of a fraudulent election. All he had was hearsay and theories.
Clark then went against his boss, acting Attorney General Jeffrey Rosen, and got a meeting with President Trump in the Oval Office which was requested by Trump at the apparent suggestion of Republican Representative Scott Perry of Pennsylvania who had just met Clark to become informed of his proposal. Then Trump held a big meeting on January 3, 2021, in his Oval Office with many Justice lawyers present, including Rosen, his deputy Richard Donoghue, and Clark.
The meeting lasted three hours. Trump was angry at the Justice Department for it not investigating election fraud enough. In this meeting, Clark presented his idea and said if the president would make him the attorney general, he would investigate it big time.
Trump then asked those present, "What do I have to lose?" by doing what Clark said.
The Senate Judiciary Committee, headed by Sheldon Whitehouse, Democrat of Rhode Island, who I respect, is investigating this matter, including what took place in this meeting. Donoghue has been interviewed by the committee.
Donoghue reportedly has told the committee that he spoke up when President Trump asked this question. Donoghue says he replied, "Mr. President, you have a great deal to lose. Is this really how you want your administration to end? You're going to hurt the country, you're going to hurt the department, you're going to hurt yourself, with people grasping at straws on these desperate theories about election fraud, and is this really in anyone's best interest?"
Every lawyer in room except Clark then said that if Trump replaced Rosen with Clark as attorney general, they would resign. Clark wasn't a criminal attorney and therefore didn't even have any criminal litigation experience before a court.
Trump then decided not to go along with Clark's proposal. But then Clark said he had another idea–get Mike Pence to reject certification of the electoral votes, three days from then, and get the swing states to create the alternative slate of electoral voters that way. As history proved, that's what Trump tried to do.
So, this idea of how to overturn the election came from Jeffrey Clark. But Senator Whitehouse suspects other people were involved so that this idea did not originate only from Clark, and that is some of what the Judiciary Committee is still investigating.
As I keep saying since way back in the middle of Trump's presidency and is in my book, Bible Predicts Trump Fall, Trumpgate is going to make Watergate look like a Sunday school picnic.