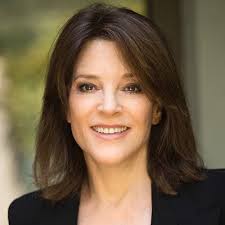 Many political pundits claim Marianne Williamson won the second round debate last night among Democrat challengers running for the 2020 U.S. presidential election that was hosted by CNN. Her only experience with politics is that she ran for a congressional seat in California in 2014 and lost.
I had never heard of Marianne Williamson until the night before last night's debate. She is a self-help psychologist of sorts who has written thirteen books, four of which have been New York Times number one bestsellers. She's also an accomplished public speaker. And her good looks don't hurt her increasing popularity. After the debate last night, she was the most-searched person on Google in all but one of our fifty states.
Ms. Williamson was born in 1952 in Houston, Texas, my old hometown (actually, metro-Houston) for nearly forty years. She is Jewish and was raised in Conservative Judaism. (Her father's surname was Vishnevetsky, and he was an immigrant lawyer.) Marianne Williamson attended and graduated from Bellaire High School, which is in the wealthiest district of Houston. This school was then attended by so many Jewish students that it got the nickname "Hebrew High." Many people regarded Bellaire as the best public high school in metro-Houston. (The small, incorporated City of Bellaire is actually located within the heart of Houston.) For twelve years I attended a Houston church regularly that is located four miles north of Bellaire High School.
The wikipedia article on Marianne Williamson says that after graduation from Bellaire, she attended Pomona College in Claremont, California, for two years, studying theater and philosophy. She then moved to New York City to become a cabaret singer. That is where she got interested in the book, A Course in Miracles.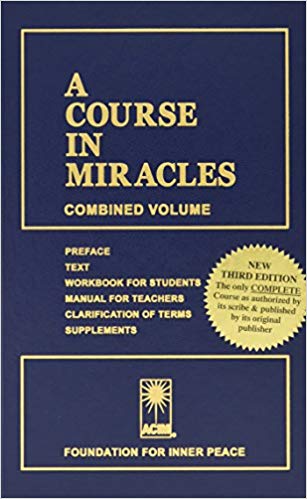 Ms. Williamson then returned to Houston in 1979 to run a combination metaphysical bookstore and coffee shop. In 1983, she moved to Los Angeles and began lecturing on A Course in Miracles in Los Angeles and New York City. As her fame increased, she was lecturing in other large cities in the U.S. and Europe.
Ms. Williamson claims that her life was messed up with alcohol, drugs, failed love affairs, and many sessions with psychology therapists until she found her "path out of hell" by reading A Course in Miracles. The most quoted statement by Ms. Williamson may be that "sickness is an illusion and does not actually exist." That philosophy comes right out of A Course in Miracles. In fact, her first book is entitled A Return to Love: Reflections on the Principles of A Course in Miracles. Published in 1992, it stayed on the New York Times bestseller list for thirty-nine weeks.
I have read about one-third of A Course in Miracles and skimmed the rest. It is because I have relatives who have been interested in it. I also have had relatives who believed much of what this book teaches even before it was written. In fact, one of my favorite uncles, Victor Zarley, was a pastor in Unity Church (Unity School of Christianity). This church advocates New Thought, which is much of what A Course in Miracles teaches. Since I traveled in my occupation as a PGA Tour golfer, I often visited my Uncle Victor where he was pastoring. We had many conversations about these spiritual matters.
A Course in Miracles was first published in 1976. Many people regard it as "The New Age Bible." Its sales shot up when Ms. Williamson was interviewed by Opray Winfrey about this book on The Opray Winfrey Show in 1992, right after Ms. Williamson's first book was published. She thereafter became known as Oprah's "spiritual advisor." (Johnny Carson had featured The Course in Miracles book one time on his TV show, in 1979.)
A Course in Miracles represents dictation taken from Dr. Helen Schucman by her colleague Dr. William (Bill) Thetford. Ms. Schucman was a Jewess who lived in New York City. Both of her parents were non-observant half-Jews. Her mother, Rose, involved herself in Theosophy, Christian Science, and then Unity School of Christianity. Nevertheless, young Helen was baptized as a Baptist at age twelve.
Helen Schucman obtained a Ph.D in her forties and became a clinical psychologist and research psychologist at the prestigious Columbia University in New York City. In 1965, she began to experience channeling. She claimed that she heard "voices" just as audibly as a human being speaking to her. She told her colleague Dr. Thetford about it. He was intrigued. He convinced Ms. Schucman to take shorthand notes of what the voices told her and dictate them to him, which he wrote down. What he wrote became the basis of the book A Course in Miracles. This collaboration took place often, between 1965 and 1972. Very soon during this process, Helen claimed that there was a single "voice" that identified itself as "Jesus." She never strayed from this conviction.
I believe A Course in Miracles can be described as New Age. This belief system has arisen especially in the U.S. in recent decades. It has been quite prominent in the Southwest, mostly in California and parts of Arizona, where I now live.
During the late 1960s and early 1970s–in defense of biblical Christianity and because I was hypnotized in a Las Vegas act in about 1968–I got interested in the occult and demon possession. I read several books on these three subjects. I also read Jeane Dixon's book A Gift of Prophecy and a book about Edgar Casey. I even attended a rare speaking engagement wherein Ms. Dixon spoke and met her afterwards. During her Q&A, I asked her an important question about salvation.
Soon afterwards, during the 1970s, an eclectic spiritual movement called "New Age" first arose in the UK. This name derives from the supposed, future coming of an astrological age known as the Age of Aquarius. This movement soon spread to the U.S., especially in its southwest, mostly California. Historians generally designate New Age as a religious movement; but advocates reject this and refer to it as "spiritual." (What else is new–many evangelical Christians say the same thing about their belief system.) Apparently, New Age still exists today, though some authorities say it has ended. Listening to Ms. Williamson, it sounds as though New Age is still alive.
So, what is New Age? It has affinities with eastern, religious thought. The primary motto of New Age is that "life is an illusion," that reality is only what one conceives in her or his own mind. New Age also is somewhat pantheistic by deeming the universe as divine and thus humans likewise. Like Unity, New Age denies sin, evil, and therefore the necessity of a salvation that originates outside of a person. Rather, New Age declares that salvation is what a person does in redeeming their own self. In fact, as with many endeavors in human psychology, an obsession with self is the core of New Age. Love and forgiveness are emphasized, which is to the credit of New Agers; but unfortunately, it is mostly with self as the object. As in some sectors of psychology, loving your neighbor as yourself is misconstrued to emphasizing loving self.
In contrast, biblical Christianity declares all human beings as creatures made in the image of a personal God, yet fallen regarding God's expectations for them, which the Bible deems as "sin." Therefore, the Bible informs that human's are in need of God's forgiveness for their failures and redemptive salvation that only he can provide. That is the sacrificial, atoning death of Jesus as Savior which God proved by raising Jesus from the dead. Truly believing this and making Jesus "Lord" is what designates a Christian.
The main activity of New Age is meditation through channeling. People are encouraged to seek a spirit as guide by means of meditation. Some channelers, like mediums, go into a trance.
Helen Schucman was the source of the book A Course in Miracles (ACIM; 1976). It is often called "the New Age Bible." She credited channeling with a spirit that self-identified as "Jesus" as the source of her supposed enlightenment laid out in the book. It is especially this attempt to contact a spirit through channeling that causes me to equate somewhat New Age and ACIM with what I learned many years ago about the occult, mediums, psychics, and perhaps demon possession.
The classic Torah text on forbiddance in contacting evil spirits is what Moses said to Israel as follows: "When you come into the land that the LORD God is giving you, you must not learn to imitate the abhorrent practices of those nations. No one shall be found among you who makes a son or daughter pass through fire, or who practices divination, or is a soothsayer, or an augur, or a sorcerer, or one who casts spells, or who consults ghosts or spirits, or who seeks oracles from the dead. For whoever does these thins is abhorrent to the LORD; it because of such abhorrent practices that the LORD your God is driving them out before you. You must remain completely loyal to the LORD your God. Although these nations that you are about to dispossess do give heed to soothsayers and diviners, as for you, the LORD your God does not permit you to do so" (Deuteronomy 18.9-14 NRSV).
It is amazing to me that the very next verse is one of the most important texts in the Old Testament that foretells about Jesus, who is to be our source for all spiritual truth. It says, "The LORD your God will raise up for you a prophet like me from among your own people; you shall heed such a prophet" (v. 15). Moses then explained, "the LORD replied to me: . . . 'I will put my words in the mouth of the prophet, who shall speak to them everything that I command. Anyone who does not heed the words that the prophet shall speak in my name, I myself will hold accountable. But any prophet who speaks in the name of other gods, or who presumes to speak in my name a word that I have not commanded the prophet to speak–that prophet shall die'" (vv. 18-20).
This is what Jesus referred to when he "cried out loud" in the temple during Passion Week, "'The one who rejects me and does not receive my word has a judge; on the last day the word that I have spoken will serve as judge, for I have not spoken on my own, but the Father who sent me has himself given me a commandment about what to say and what to speak. And I know that he commandment is eternal life. What I speak, therefore, I speak just as the Father has told me'" (John 12.48-50).
A Course in Miracles denies the existence of human "sin" and divine judgment. Like Christianity, it advocates "a spiritual transformation;" but unlike it the main precept is that "life is an illusion." Ms. Williamson has explained often that reality is only in our minds, which comes from this book A Course in Miracles. It denies other basic precepts of the Judeo-Christian faith. For example, it claims "salvation" is the inner redemption that we make of our own lives. All of this is nothing more than New Age.
It surprises me that Helen Schucman and Marianne Williamson have had a Jewish heritage, yet both traded it in for this false teaching that strongly opposes the Judeo-Christian faith. Jesus had said to the Samaritan woman (Samaritans were half-Jewish) at Jacob's well, "salvation is from the Jews" (John 4.22). This woman was astounded when Jesus told her, "you have had five husbands, and the one you have now is not your husband" (v. 18). She then recognized him as a prophet and said, "'I know that Messiah is coming" (who is called Christ). 'When he comes, he will proclaim all things to us.' Jesus said to her, 'I am he, the one who is speaking to you'" (vv. 25-26).
This Samaritan woman seems to have believed what Jesus said. For she went and told her townspeople. They then came out and met Jesus. They asked him to come to their town and stay with them, which he did for two days. We further read, "They said to the woman, 'It is no longer because of what you said that we believe, for we have heard for ourselves, and we know that this is truly the Savior of the world'" (John 4.42).
That is what Helen Schucman and Marianne Williamson needed to do. The Apostle Peter later preached about "the name of Jesus Christ of Nazareth, . . . There is salvation in no one else, for there is no other name under heaven given among mortals by which we must be saved" (Acts 4.10, 12). Thus, God's salvation is obtained by truly believing in Jesus Christ as Savior and Lord.