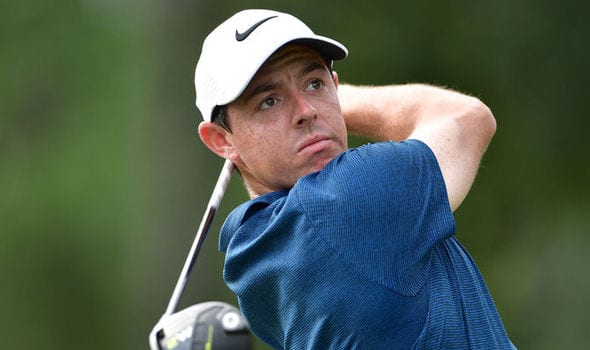 Rory McIlroy won the PGA Tour Championship at East Lake Golf Club in Atlanta, Georgia, today by four strokes over Xander Schauffele. McIlroy also won the coveted FedExCup today to bank an extra $15 million. As the 2019 season came to a close, he was arguably the best player on the PGA Tour this year, with three wins.
Yesterday, play had to be stopped and ended after the last group had only completed six holes. Thirty minutes later, lightning struck six golf fans who were taken to the hospital. Players had to return early this morning to complete their third rounds.
Brooks Koepka, the number one player in the world, started the last round today with a one stroke lead. Right away, he and his playing partner Rory McIlroy, two of the longest hitters on the PGA Tour, started going head-to-head just as they had four weeks ago at the WGC-Memphis tournament, which Koepka won.
But Koepka, with is closed-to-open swing, hooked his drive on #7 and lost his ball for a two-shot penalty. A lost ball rarely happens on the PGA Tour because of the spotters, marshals, and so many golf fans. But due to the design of the golf course, people could not be allowed on the left side of the 7th fairway, where Koepka's doom began.
The momentum then swung in McIlroy's favor. He capitalized on it by making birdies. But then he bogeyed the 14th and 15th holes to make it game-on again, with Xander Shauffele now in the mix. McIlroy clung to the lead and then birdied the last two holes for icing-on-the-cake as he strode to the clubhouse the victor by four.
On the Champions Tour in my old stomping grounds–near Seattle at the TPC at Snoqualmie Ridge–hometown favorite Fred Couples started the last round today in the Boeing Classic with a five-shot lead. But Couples was not himself, struggling all day with every part of his game as he finished with a four-over-par 76. So, a win again evaded Couples in this event, where he has finished third a surprising three times. Graying Couples is about to turn sixty years of age, so his chances of winning in his hometown backyard are growing much slimmer.
(Fred Couples and I grew up playing golf on two of the three public golf courses owned by the City of Seattle: Fred at Jefferson Park Golf Course and me at West Seattle Golf Course. They are 4.3 miles apart. Both Fred and I attended college 2,500 miles away from home, at the University of Houston. I think he told me his decision to go there was influenced by me having gone there.)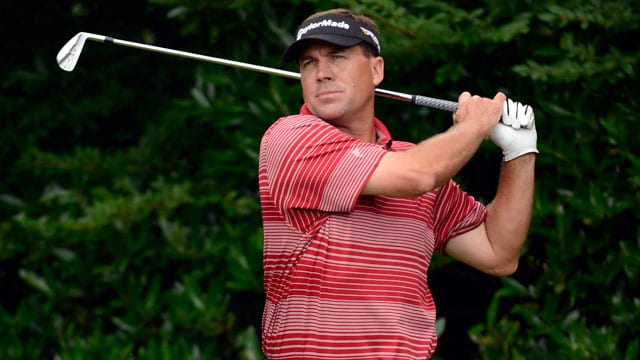 Long-hitting Brandt Jobe said that because of Couple's five-stroke lead starting today, and the fact that he has been a star on the PGA Tour, being a Masters champ and all, "I really thought we were all playing for second." He added, "If Freddie goes out and does what he normally does, we're playing for second." Indeed, Couples himself had shot 63 the day before.
But then Jobe birdied the first five holes today. He set a Senior/Champions Tour record by coming from seven strokes back with a nine-under-par 63 to win by three strokes over Tom Pernice.
Fifty-four-year old Jobe is strong and has a good swing. He is one of those few pros who played sporadically on the regular PGA Tour, never won, and now does well on the Champions Tour. He has been a global player, with six wins on the Japanese Tour, four wins on the Asian Tour, and one win on the Canadian Tour. Now he is an exempt player on the Champions, with two wins out there.