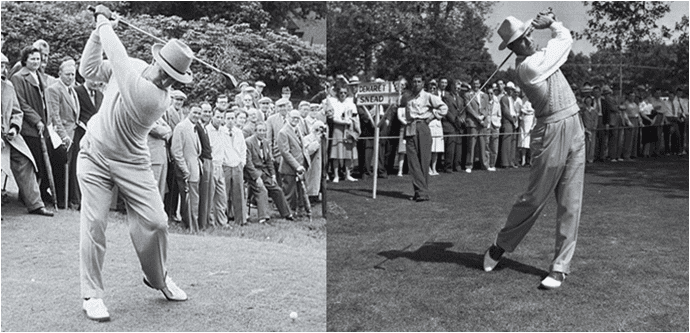 In the history of golf, there are some false statements made about Sam Snead's famous driver with which he won most of his seven majors and most of his total 82 wins on the PGA Tour, which record still stands. It is correct that he used this club for many years, reportedly seventeen, in the prime of his career. But this club was not a Wilson driver as is occasionally reported. (Incidentally, I wonder if such reports were affected by Wilson.)
Sam Snead had a golf club endorsement with Wilson Sporting Goods Company throughout most of his career. So, Sam always played in PGA Tour tournaments with a Wilson golf bag having his name on it, Wilson irons, and perhaps Wilson fairway woods. But Sam did not use a Wilson driver during much of his career. So, his famous driver was not made by Wilson despite some written accounts to the contrary.
[The above left photo has the caption, "Sam Snead Swinging his Geoge Izett Driver." And the below photo, published in 2014, is supposedly Sam Snead's famous driver with the caption, "Sam Snead's Wilson driver on auction block for $250,000." Heritage Auctions held the auction, and I don't know what it brought.]
Sam Snead bought that driver from his Tour playing friend Henry Picard by paying him $5.25 for it. Picard, probably jokingly, later asked Sam to sell it back to him. Sam reportedly replied, "I wouldn't sell it for a million dollars."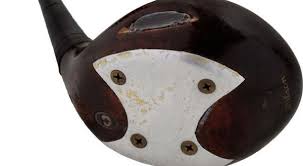 Of course, I knew the legendary Slammin' Sam and played golf with him in some PGA Tour tournaments. Two that I remember right now were staged at Greensboro and Ft. Lauderdale. Occasionally, I asked Sam for a golf swing lesson. I remember one time was at the Masters on the practice tee. Sam took a look at my swing and said in his inimitable West Virginian drawl and sporting his infectious grin, "Looks good, Moon Man," and walked off to the putting green to make the final preparation for his round that day. He liked to call me that since Bob Hope nicknamed me "the pro from the moon."
That famous driver that Sam Snead used during the peak of his career was a George Izett driver. It was his favorite golf club ever. It would have been made of persimmon wood. Some persimmon wood drivers could last a very long time, even if used by PGA Tour pros and those who hit the long ball, like Slammin' Sam. It was because much persimmon is a strong wood with dense fibers that don't allow as much expansion and contraction as so much wood does due to moisture from rain and changes in atmospheric humidity.
I planted and grew two beautiful Japanese persimmon trees in my Texas front yard. They were there for decades when I lived there. When they grew to full maturity, every year they produced about five hundred, huge, red persimmons (not your little American persimmons) the size of grapefruits. And I can tell you that persimmon wood is very strong and durable. Plus, I played with many persimmon wood drivers in my 18-year, full-time career on the regular PGA Tour. Most of them were made by MacGregor. So, I know this about persimmon from various experiences that I've had.
But the main thing about Sam's famous George Izett driver, which he talked about a lot during his career, may have been the steel shaft. I believe Sam asked George Izett to make him a driver and put the strongest steel shaft in it that he could find. That is what George Izett apparently did. For, further Tour lore about this is that Mr. Izett did this by finding the heaviest steel shaft that he could find and marrying with this most famous George Izett club head.
I also know this about persimmon wood because, as I revealed in my last golf post, I used to hollow out wood drivers and play with them on the PGA Tour. Several of them were persimmon. I also did this with laminated wood driver heads. Moreover, I got the #1 company in the world that made laminated wood for golf clubs, which was in Wisconsin, to send me several blocks from which I fashioned driver heads. And I can tell you that the best persimmon wood driver heads were always harder than any laminated wood heads. Some people think that just because you glue some wood sheets together, that that makes them stronger than persimmon. That is a bunch of baloney. The hardness of any laminated wood heads back in those days depended mostly on the hardness of the wood that was used. And I never knew those companies that made laminated wood heads to use persimmon since it was more expensive than other options.
So, Sam Snead's famous driver was a George Izett, and it may have been mostly the extra strong steel shaft that made it so good.