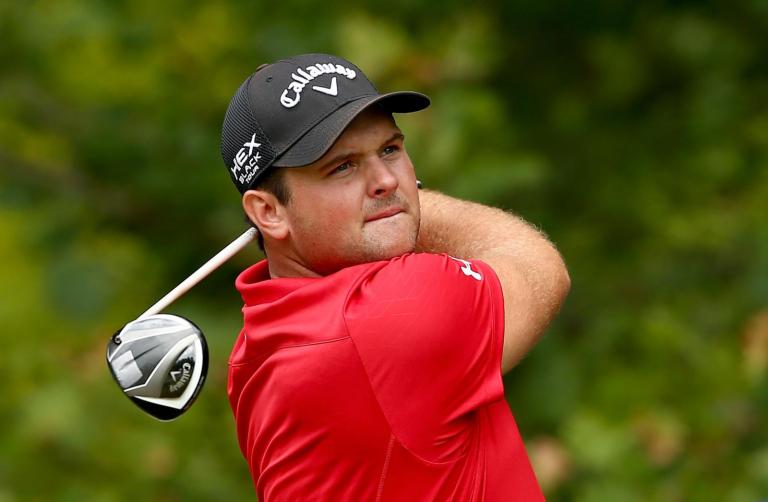 Patrick Reed won The Northern Trust golf tournament yesterday on the PGA Tour in Jersey City, New Jersey, by one stroke over Abraham Ancer. Jon Rahm, the 54-hole leader, finished tied for third. Reed, the 2018 Masters champ, has now won seven times on the PGA Tour. It was the first go-round for the FedExCup Playoffs.
This win moved Reed into twelfth position for the President's Cup, which is near the cutoff. Team captain Tiger Woods will have to decide whether or not to make Reed his captain's pick.
On Friday, Webb Simpson caused a controversy when he cracked his driver early in his round. PGA Tour officials ruled that he had to continue play with that club. Prior to these new rules changes introduced last year, the Rules of Golf had always allowed a player to replace a club during the round if the club became damaged in the normal course of play, which is what happened to Simpson. The rules never allowed a player to replace a club that was broken in a fit of anger.
Simpson had hit his drive on the third hole, and he felt something was wrong with his club. He discovered right then that the face of his driver had cracked. His playing partners looked at it, one of whom was Rory McIlroy, and they agreed. Simpson then expected that he could replace the club. He said he always takes two drivers to every tournament, so he'd have to have someone go get it out of his locker. But he had to call for a ruling, first.
The PGA Tour officials ruled according to a new rules change about that, and Simpson was not allowed to replace the club. They said the rule states that the club has to be "broken or sufficiently damaged" to replace it, and they ruled that it had not. The officials even phoned the USGA on the spot and asked their advice.
Many PGA Tour players then agreed with Simpson, that he should have been permitted to replace the club. Simpson finished his round hitting four shots with his cracked driver and several shots with his three wood as a substitute. He shot 73 and complained about the ruling. I agree; that was an unfair ruling. They need to change that rule back to the way it used to be.
That reminded me of the same experience I had in the U.S. Open at Merion Golf Club, the one where Lee Trevino beat Jack Nicklaus in a playoff. On my sixth hole (I think it was during the second round), I hit my driver and it cracked. But there was a big difference in my cracked driver compared to Simpson's cracked driver. Plus, it wasn't Simpson's fault that his driver cracked, but it was my fault that mine cracked. Let me explain.
First, when I played the regular PGA Tour, back in the dinosaur age, it was before metalwoods. Thus, my driver club head was made out of wood, whereas Simpson's driver club head is metal. (Incidentally, for a metalwood club face to crack, that may indicate the manufacturer made the club face too thin. They have rules about that.)
Second, I think the crack in the face of Simpson's driver was not real noticeable, whereas mine was very noticeable.
Third, Simpson called for a ruling to replace his club, whereas I did not call for ruling to replace my club. I didn't want anybody to see it, much less PGA Tour officials. It was a big crack, and I didn't want anybody looking carefully inside that big crack. Why?
I have blogged about this before. In 1969, I told my friend friend Karsten Solheim, owner and founder of PING golf clubs, "Karsten, you're not making perimeter weighted golf clubs with the most important club in the bag for that." He said, "What do you mean?" I replied, "You started out making perimeter weighted club heads with the shortest club the bag–the putter. Now you are doing it with irons. [At that time, Karsten was making PING wood clubs with laminated wood that had no perimeter weighting concept in them.] But I think the most important club in the bag that can benefit most from perimeter weighting is the driver since it is has the longest shaft. And with a putter, you take a little short swing; but with the driver, you take the biggest swing of all. The driver has way more shot displacement from the center of gravity on the club face than the putter does, resulting in far more twisting of the club face and thus more offline shots." But I couldn't convince him to do it. Karsten then said, "Why don't you do it?" I said, "O-o-o-kay."
That's when I started a hobby of making hollowed-out wood clubs and playing with them on the PGA Tour. Throughout the 1970s, all of the drivers I used on Tour were hollowed out. Only my few, closest friends knew about it, and I asked them to keep it quiet. The reason was that I was thinking that when I finished my career on the regular Tour, if not before, I might start my own golf club manufacturing company in which my main feature would be making hollow wood clubs and not necessarily of wood.
Back in the days before metalwoods, all golf club manufacturers made wood clubs as a solid piece of wood except that all of them, at least the drivers, had a chunk of lead weight right in the middle of the club or in the middle bottom under the soleplate. Some fairway woods didn't need that because they had brass soleplates whereas many drivers had aluminum soleplates. Brass is very much heavier. Due to the lighter soleplate, drivers needed more weight. Only two companies sometimes put the extra lead weight on the very back of the wood club head in plain sight. The reason for this added weight was that the club needed it in order to get the proper swing weight.
Well, I learned from Karsten Solheim about perimeter weighting of golf clubs back in my first year on the PGA Tour, which was when I met Karsten, in 1965. Perimeter weighting is an engineering principle. Karsten was an engineer who worked many years for General Electric. According to this engineering principle of perimeter weighting, the worst place to add a chunk of lead weight to a golf club head was in the middle of it. (This principle is most easily understood by thinking of a circus performer who walks on a very elevated tightrope while balancing himself with a long pole.)
So, in my garage at home, I started hollowing out drivers and putting lead weights in them on the toe and heel. I would drill a hole in the toe and a hole in the heel, pour hot lead in there, cover it with a little wood putty, and refinish the club head so you couldn't tell that I had messed with the club. Over the next ten years, I guess I probably did that to at least twenty drivers. My favorite, which I used more than any other, was a MacGregor driver with an aluminum soleplate.
I think it was that MacGregor driver that I cracked at Merion. The reason it cracked was that I had hollowed the club head out so much that it made the sides too weak. And I don't think that was the only time that I cracked one of those drivers while playing on the PGA Tour. But after that experience at Merion, I started adding another feature. I kept doing the same thing–drilling two holes and adding melted lead in them–but I also started reinforcing the toe and heel of the club by drilling another set of holes and inserting strong wood dowelling in there.
But eventually, I decided on another remedy. Instead of using wood dowelling, I used used thick wood screws, filed off the heads, and added the wood putty. After I started using wood screws for support, I don't think any of my doctored drivers ever cracked.
All those years, I also made wood club heads of different sizes and shapes and weighting, constantly testing them. I made some that were very elongated, even more than very old wood clubs used to be. I occasionally tried them in practice rounds on the PGA Tour. Some of my Tour player friends started calling it "the hot dog club." It was a bad idea. But I learned why. The center of gravity was way far away from the shaft compared to our other clubs. That causes the shaft to bow more at impact, bowing toward the ground. When that happens, you hit the ball fat. One day I hit one of those fat shots with that club and playing partner Labron Harris said, "I think you need to retire the hot dog."
I also made so-called wood clubs out of metal. The first year I started doing this, I got Kosar's metalwood and cut it in half. Sure enough, just as I thought, it was hollow. Yet Kosar didn't know anything about perimeter weighting.
Kosar was a small golf club making company that was mostly a golf club repair shop in Akron, Ohio. I had already started frequenting that place before I ever had that discussion with Karsten Solheim in 1969. Kosar was most known to us Tour players because they put the really-strong steel shaft in Sam Snead's favorite driver that he ever had. It was one of the most famous golf clubs in golf lore back in those days. Kosar made those shallow-faced aluminum drivers for only driving ranges, starting back in the 1950s. When I grew up playing golf, our driving range had them. People only thought those clubs were no good because they were only made not to break. Little did they know. In fact, little did any of us know back then. That was a superior club except that it was made too shallow for driving.
BTW, there never was anything illegal about what I doing to my drivers, hollowing them out and playing with them on the PGA Tour. If there had been, there never would have been metalwoods.
When Karsten Solheim quit his job at GE, borrowed money from the bank, and started Karsten Manufacturing Corps., which I think was in 1967, I told him, "Karsten, you are going to totally revolutionized the iron making industry in golf." Then, in 1979, Gary Adams came out on the PGA Tour at the beginning of the year with his first metalwood. He had recently founded Taylor Made. I met Gary on the practice tee at the San Diego Open and hit his club. And then told him, "Gary, when Karsten Solheim started his golf club company, I told him that he was going to totally revolutionize the iron-making industry. Now, I'm going to tell you the same thing. You are going to totally revolutionize the wood making industry." And that he did. Forty years later to the present, Taylor Made still has the number one driver on the PGA Tour.
Back then, in 1979, Gary's driver club was better than Kosar's, but it still had too shallow of a face. George Archer, ? Simpson, and I were the first players on the PGA Tour to start playing Gary's metalwood. But most of us used it only as a fairway wood club since the face was too shallow. Of course, Gary improved that later on. And now look, they make the metalwood club head so big that they have to have a rule that you can only make them so big. I forget how many cc's it is, over 400. And again, making those big heads is all about perimeter weighting. But still, with Webb Simpson's experience last week, it appears that they still have the problem I used to have–cracked heads.