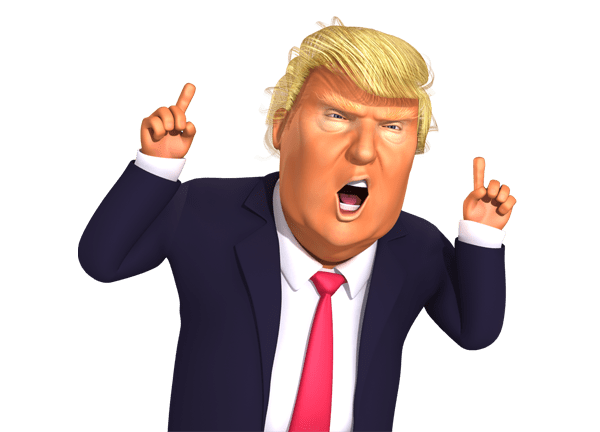 U.S. President Donald Trump is throwing the world into a trade war that could seriously and negatively affect financial markets worldwide and many national economies. Its focus is the trade war between the world's two largest financial behemoths, the U.S. and China. Trump says trade wars are "great." Most economists disagree. How is it that Donald Trump is such an expert on so many things?
President Trump and his aides say China is paying for the tariffs that Trump has put on China imports into the U.S. Most economists and other experts disagree. They say those U.S. importers pay for the tariffs and that these costs are merely added to these goods when sold in the U.S. Thus, retail prices are increased so that U.S. consumers really pay for these tariffs. Trump is financially reimbursing farmers for their losses due to China retaliating by not buying U.S. agriculture products. But these reimbursements don't at all cover all those losses, not to speak of all other losses borne by U.S. consumers due to this trade war.
Yesterday on Fox News, anchor Chris Wallace interviewed President Trump's Director of Trade and Manufacturing Policy, Peter Navarro. When Navarro spouted this party line, that China pays the tariffs, not U.S. consumers, Wallace pushed back by revealing otherwise with a statistical chart produced by President Trump's own Department of Labor and Commerce. Navarro still called those figures "false."
In fact, a March paper produced by the National Bureau of Economic Research concluded that President Trump's tariffs were being paid almost entirely by U.S. consumers. Plus, Federal Reserve Chairman Jerome Powell, whom Trump has been highly criticizing lately, has recently admitted that the U.S. trade war with China is having a negative impact on the U.S. economy.
When Donald Trump first became president, he tapped Gary Cohn, COO of Goldman Sachs financial firm to be Trump's Director of the National Economic Council. Cohn was highly respected in the financial industry. He eventually and increasingly disagreed with Donald Trump's economic policies so that Cohn resigned. In a later televised interview, in March this year, Cohn was asked about President Trump's tariffs. Cohn replied, "tariffs don't work. If anything, they hurt the economy." When further asked if other economists agree with Trump, about tariffs working, Cohn answered, "There's only one in the world," referring to Peter Navarro.
This Trump tout about China paying, thus not U.S. consumers, for these U.S. tariffs on Chinese imports into the U.S. reminds me of Trump saying "Mexico will pay for the wall." He had constantly promised during his presidential election campaign that he would build a wall on the U.S.-Mexico border if he became president and that Mexico would pay for it. The really stupid thing about that was that people were so gullible about it even though Trump never explained how Mexico would pay for the wall. Of course, Mexico said it would NOT pay for Trump's wall.
Donald Trump is one of these guys who tells his subordinates, "don't bother me with the details. Just git r done." As far as I'm concerned, he is not a good salesman. There are some things with which I've agreed with Trump about, yet I think I could do a much better job of selling it to the American people. One has been his objection about Muslim radicals. See also "Does the Qur'an Promote Violence?"
So, we've already been here, with Trump saying who would pay. Mexico didn't pay, and there is no wall. What of this latest Trump go-round with China? Is China paying like Mexico did? China is paying some, but so is the U.S.