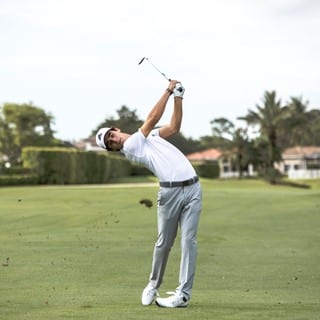 Twenty-year old Joaquin Niemann, from Santiago Chili, won A Tribute to the Military at The Greenbriar in White Sulfur Spings, West Virginia, today on the PGA Tour. He set several records in doing so. The Latin American is the first golfer from Chili to ever win a PGA Tour tournament. And he joined twenty-year old Matthew Wolff, who won the 3M Open in June, to become one of the two youngest pro golfers to win on the PGA Tour in the same year since 1931. And he has become the youngest international winner on the PGA Tour since 1923.
But Niemann's win today was not at all assured even though he started with the lead. For he started the last nine holes tied for the lead. But he finished the round with a 64 to win by six strokes over Tom Hoge. After Niemann won he said he just tried to stay relaxed today and enjoy the game. It looked like he accomplished his goal and then some. The television cameras showed him laughing and smiling a lot in his round.
Joaquin Niemann is six feet tall and weighs only 152 pounds. But he is no stranger to success in golf. Before turning pro over a year ago, he had won two world junior titles and was the #1 ranked amateur golfer in the world for 44 weeks.
Youth is taking over the game of professional golf. It has been happening on the LPGA Tour for quite some time. Now, it is happening on the PGA Tour. For an old guy like me, who played the PGA Tour and Champions Tour for many years, it is quite something to see.
In Joaquin's swing when he hits his long shots, he has a substantial dip of his upper body. When a golfer does that, what is most noticeable is that it lowers the head by several inches at impact and somewhat afterwards compared to where the head is positioned at address. This swing feature results in a much more tilted spine at impact.
You can get away with that tilted spine during your youth. But in time–at least for a PGA Tour player who plays lots of golf and hits lots of practice balls–it can result in low back pain because it stresses the disks. Young Niemann would be wise to start trying to correct that by keeping more of what's called "a level head" in his downswing. He should watch film of Ben Hogan's swing and try to copy Hogan's level head.
But I don't have any advice for him with the short stick. It looks like he's a phenomenal putter and has a ton of confidence. Plus, he plays fast, which can aid under pressure. I expect these young guns such as Niemann and Wolff to have very bright careers ahead of them in the pro game of golf.