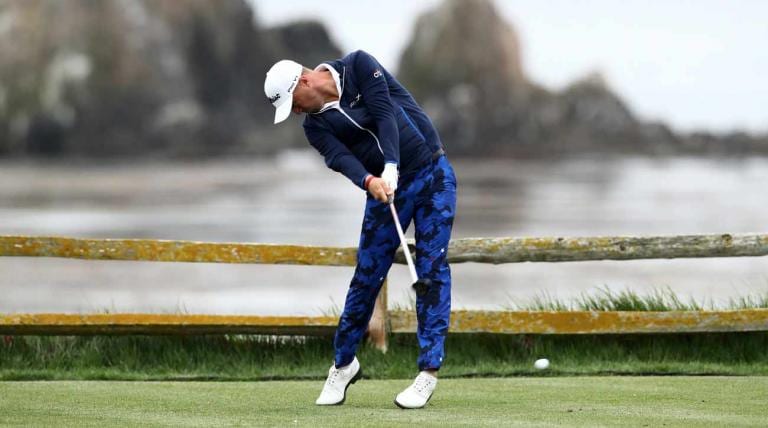 Late news now but yesterday, Justin Thomas shot 67 to win The CJ Cup@Nine Bridges at Jeju Island, South Korea by two strokes over Danny Lee. He had won it two years ago.
Thomas and Lee were well ahead of the field as they played the last nine holes sort of like match play. Thomas took the lead on the 14th hole, and Lee knocked himself out of it with bogies on the 15th and 16th holes. It was Thomas' 11th win on the PGA Tour.
In the past fews years, Justin Thomas has sometimes been the #1 player in the world. He drives the ball extremely well. His long length off the tee is certainly an advantage. I think Justin Thomas has perhaps the best extension through impact of any Tour player nowadays. It really is quite amazing.
When I make any swing observations of PGA Tour players on my blog, I often stress the importance of full extension of the arms at impact and for several feet after impact on full shots and its complementary "staying down" with the head (really the upper spine) in that portion of the swing. It doesn't get any better than Thomas' full extension and his staying down (maintaining the spine angle) at impact and for a few feet after impact. You can see it in that recent Titleist ad on TV in which they show Justin's swing.
The only criticism I would have about Justin Thomas' swing is that I think he would be more consistent in his ball striking if he kept his feet on the ground more. Sometimes, when you see pictures of his swing when hitting a driver, his right heel is way off the ground early in his downswing. And at impact he often has his left heel off the ground, sometimes a lot. That is definitely a no-no.
However, all of that heels-up-in-the-air business contributes to Justin Thomas' length off the tee. Just watch the televised Long Drive contests. Those guys carry their drives over 400 yards, and oftentimes their feet are all over the place. That seems to give them added distance, but they sacrifice accuracy by doing so.