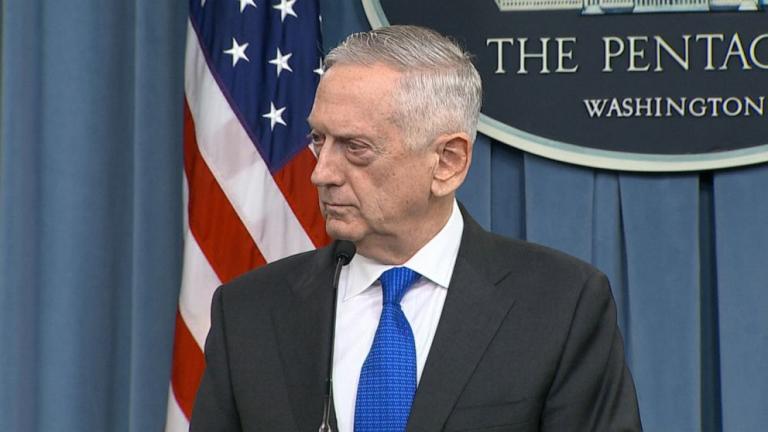 President Donald Trump–the former real estate developing mogul and star of The Apprentice television series wherein he made popular the saying, "You're fired"–hired General Jim Mattis, whom he lauded as a great general, as his Secretary of Defense, and then fired him late last year. Trump afterwards said of Mattis that he was "the world's most overrated general." I'd say Donald Trump is the Don Rickles of the White House, except he doesn't make such insults in loving jest like the famed comedian did.
At the Alfred E. Smith dinner tonight in New York City, four-star general in the Marine Corps Jim Mattis was the keynote speaker. He got back at his former boss with a great, big zinger of disrespect, yet probably truthfulness, by saying, "I earned my spurs on the battlefield, . . . and Donald Trump earned his spurs in a letter from a doctor."
This remark indicates that Mattis believes the allegation that Donald Trump, as a young man, avoided the military draft by getting a doctor to lie in a letter, saying he had bone spurs. I was in the Army and Air Force reserves for 7.5 years and did six months active duty in the Army. I had to attend a weekend meeting every month in my reserve unit and was always subject to being called up to active duty and shipped off to the Vietnam War. All that time I was competing on the PGA Tour.
Trump's personal lawyer Michael Cohen, who is now doing three years time in the slammer partly due to serving his boss by committing criminal acts, has said that Donald Trump once told him concerning the allegation about dodging the draft by getting a doctor to lie for him, "You think I'm stupid? I'm not going to Vietnam."
Military veterans don't take too kindly to draft dodgers. Two months ago, Jim Mattis alerted the American people by saying his silence about Trump as president was "not going to be forever." Tonight, he kept that promise for the first time.