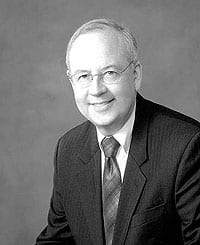 I was watching some of the televised impeachment proceedings in the U.S. Senate today when attorney Kenneth Starr made his debut defense of President Donald Trump. I had already thought that when it was announced days ago that Starr was being added to Trump's legal team to defend him in the Senate, that looked like hypocrisy on Starr's part. Why? He was the main person who got President Bill Clinton impeached in the House, mostly for Clinton's sexual mishap with an intern in the White House. At the time, I had thought, although that was quite a dishonorable thing to do, such misconduct did not rise to level of impeachment of the president. They had forced Clinton to testify under oath about it, and he lied, though it was a nuance of words.
There had already been considerable testimonial evidence that Bill Clinton, though married, was a smoozer with the ladies in prior years, including when governor of Arkansas. So, it wasn't so shocking to me when this affair with Ms. Monica involving a blue dress surfaced. But I also lost respect for Kenneth Starr at that time.
Years later, Starr became president (2010) and then chancellor (2013) of Baylor University, where my son had graduated many years prior. Baylor underwent a sexual scandal among student athletes, from 2009 to 2016, due to six females claiming to have been raped. A law firm was hired to investigate, and it recommended that Starr be fired. He resigned in 2016, seemingly accepting some blame due to lack of oversight.
But today, Starr just made himself look more hypocritical by saying, "The Senate is being called to sit as the high court of impeachment all too frequently." What! I thought immediately, "If someone is guilty of doing that, there isn't anyone in this world more guilty of it than Kenneth Starr." More hypocrisy!
Then Starr added, "Indeed, we are living in what I think can aptly be described as the age of impeachment." He said that because of Nixon's impeachment in 1974, Clinton's in 1998, and now Trump's in 2019-2020. I thought, "that is preposterous coming from this man Starr."
Yeah, that's what people eventually were saying before the day ended–a lot of people. That and some John Bolton's excerpts from his impending book might just have tipped the balance among Republican senators to call for witnesses in the trial, which surely will include Bolton. Trump's defense took a huge hit today.