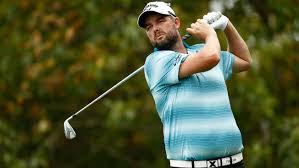 Marc Leishman from Australia shot a seven-under par 65 to come from behind to win the PGA Tour's Farmers Insurance Open by one stroke over John Rahm with 15-under par total at Torrey Pines in La Jolla, California, today. It was Leishman's fifth win on the PGA Tour.
Rahm, who won this event in 2017, started the day leading the tournament by one stroke at twelve under par. He then got off to a horrific start with four over par the first five holes. Rahm then righted the ship starting at the par five 13th hole by going eagle, birdie, bogey, birdie, birdie, and birdie on the last hole. Rahm had almost the same eagle putt to tie on the par five 18th hole as he had three years prior, when he made a 60-putt for a one shot victory. This time, he needed to make the eagle putt to force a playoff with Leishman. Rahm hit almost the same putt as before, but the ball stopped this time only inches from the hole.
The weather in this tournament started rainy but finished pleasant in the Southern California sunshine in the middle of winter. But a darkness overshadowed the end of day. NBA legend Kobe Bryant and his 13-year old daughter died, along with all six other passengers and the pilot, in a helicopter that crashed into the side of a mountain/hill in Los Angeles.
Tiger Woods was asked about it just as he walked off the finishing hole. He had just learned about it like five minutes earlier from the gallery. Like many sports fans, but also as a close friend of Kobe's, Tiger was stunned and seemed at a loss for words as were many other sports friends of Kobe who were interviewed on TV in the closing hours of the day. The sports world thereby lost one of its great ones who I, a lifetime NBA fan, watched so many times on television as he played games for the Los Angeles Lakers his entire career with such determination and confidence, just like Tiger Woods has played his game.