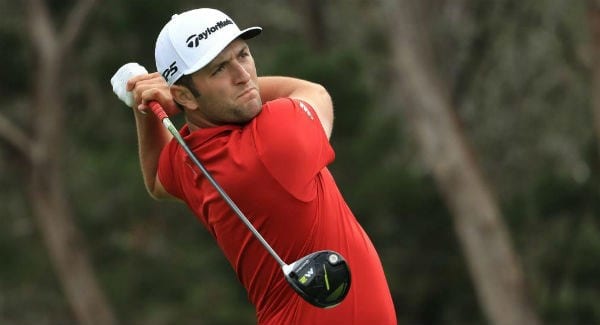 Spain's Jon Rahm, presently the #3 pro golfer in World Rankings, shot a seven under par 65 to take a one stroke lead today over American Ryan Palmer after three rounds in the Farmer's Insurance Open at Torrey Pines in LaJolla, California, near San Diego. Ireland's Rory McIlroy, former #1 player, is three strokes back of Rahm.
Tiger Woods, who started the day six strokes behind leader Ryan Palmer, shot an easy four-under par the front nine to draw some crowd excitement. But he couldn't keep the challenge going as he shot one over par the back nine for a 69 and seven-under par total for three rounds. He'll likely have to shoot 65 or better tomorrow to have a chance to set a new record in pro golf history by winning his 83rd PGA Tour tournament. He is now tied with Sam Snead's record with the most wins on the PGA Tour, it being 82.
Twenty-five year old Jon Rahm has won three times on the PGA Tour. His first win was at the Farmers Insurance Open at Torrey Pines three years ago, in 2017. Rahm lives in the Phoenix valley in Arizona, where I live. He attended Arizona State University. He married his college sweetheart. Jon is sort of a big guy for pro golfers, being 6'2″ and 220 pounds. Maybe that's why his nickname is Rahmbo.
Tyler McCumber shot a pair of 68s the last two days to move into 5th place. Tyler, a new player on the regular PGA Tour, is the son of former PGA Tour player Mark McCumber. I played with Mark the last round at the Doral Open, in 1979, when he won his first of ten tournament wins on the PGA Tour, which includes the Players Championship, which players regard sort of as the fifth major in pro golf. I think Mark was the most emotional player that day of anybody I ever played with on the Tour. Sometimes, he did something heroic and jump into the air as if he was a basketball player in the NBA. I'd laugh when I saw him do it. It was exhilarating. I finished fourth and yet was pulling for Mark in those closing holes to win it.
Rahm has got be a strong favorite to win the Farmers again, tomorrow. Great things have been expected of him. He has had to contend with a bit of a temper. But he seems to have that in control this week. But even though McIlroy is three strokes back, his game looks like he's ready to break through to the winners circle anytime. And if Palmer could shoot another 62 as he did Friday, everyone else might be playing for second.