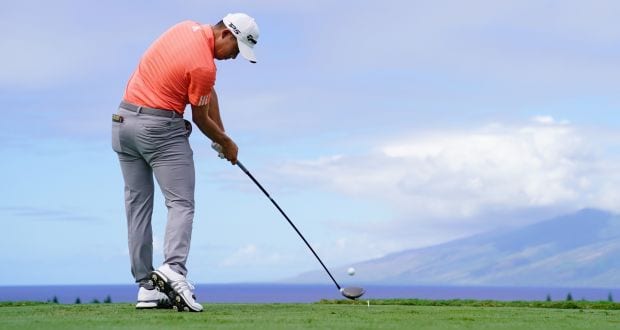 Collin Morikawa defeated Justin Thomas on the third hole of a sudden-death playoff today at Muirfield Village near Columbus, Ohio, for his second win on the PGA Tour. Morikawa had been making an impression of consistency in his first year on the PGA Tour by making the two-day, 36-hole, cut in his first 23 tournaments before he missed his first cut recently. Thus, he came close to Tiger Woods' record of making the cut in his first 25 PGA Tour tournaments.
Morikawa and Justin Thomas, the 5th ranked pro in the world, were paired together today in the last group for what turned out to be a dramatic two-man race. Morikawa got off to a fast start with five birdies on the front to take the tournament lead. But Justin Thomas, a 12-time winner on the PGA Tour, birdied four consecutive holes mid-way in his round to tie Morikawa. A three-shot swing occurred mid-way in back nine, with Thomas eagling the par-five 15th as Morikawa scrambled for his par. Thomas then had a three-shot lead over Morikawa with three holes to play. But Thomas bogeyed two of them and Morikawa birdied one to tie at the end of regulation play.
On the first extra hole, the 10th hole, Thomas made a downhill 50-putt for birdie. But Morikawa remained calm and arose to the challenge by holing his 15-foot putt birdie to continue the match.
Both players parred their 2nd playoff hole, the 18th hole, barely missing their birdie putts.
On the 3rd playoff hole, the 10th hole again, Justin Thomas drove right. His ball was one foot behind a tree base, so that he had to chip out. His 15-foot par putt missed as Collin Morikawa easily two-putted for a par four to win the championship. He was all smiles and spoke of his joy in overcoming the memory of a missed, four-foot putt on the last hole at Fort Worth, two weeks ago, to miss forcing a playoff.
Collin Morikawa has an excellent golf swing. He was striping his iron shots all day long right at the pin. I expect Morikawa, who lives in Las Vegas, to be a really fine player on the PGA Tour for many years to come.