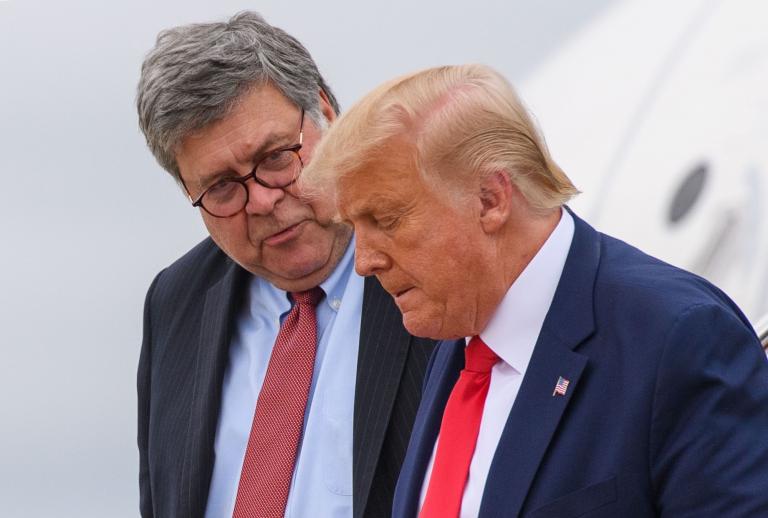 William Barr was the U.S. Attorney General for two years during the President H. W. Bush administration, in 1991 through 1993. Before that he headed the Justice Department's Office of Legal Counsel under President Bush. In July 1989, Barr drafted a memo for the general counsels of other federal agencies in which he alleged that Congress undermines executive power, and he laid out proposals of how to oppose it.
TNR related in its newsletter on June 8 this year concerning this 1989 Barr memo, "Barr even argued in one part that it would be unconstitutional for Congress to prohibit the executive branch from 'soliciting funds or material assistance from foreign governments (including any instrumentality or agency thereof), foreign persons, or United States persons' so long as it could be justified as 'furthering any military, foreign policy, or intelligence activity' whatsoever. 'No limitations on the President's authority to discuss certain issues with foreign governments, or to recommend or concur in courses of action taken by other nations, should be sanctioned.'"
It is this document and perhaps other Barr pronouncements that caused President Donal Trump to select Barr for his attorney general.
The National Catholic Reporter related on July 23 this year that Professor Cathleen Kaveny of Boston College–an expert on the intersection of law, religion and morality–wrote that Barr has "a kind of authoritarian Catholic thought and an elitist vision that is not particularly comfortable with the give and take of a democracy."
Is that partly because William Barr is a Roman Catholic who is therefore committed to belief in the papacy? The main Catholic belief about the pope is papal infallibility. That means the pope cannot be wrong about matters of religion because God protects him from such error. That viewpoint is the greatest of all human authoritarianism, and it seems to me that it seeped into William Barr's politics early in his life.
The Roman Catholic concept of the papacy is based on a supposed "apostolic succession," with the Apostle Peter believed to be the first pope due to an interaction that occurred between Jesus and Peter. Jesus had asked his disciples, "Who do people say that the Son of Man is?" (Matthew 16.13 NRSV). Jesus had often referred to himself by this title, likely alluding to its only use in the Old Testament in Daniel 7.13-14. Peter answered, "'You are the Messiah, the Son of the living God.' Jesus answered him, 'Blessed are you, Simon son of Jonah! For flesh and blood has not revealed this to you, by my Father in heaven. And I tell you, you are Peter, and on this rock I will build my church, and the gates of Hades will not prevail against it. I will give you the keys of the kingdom of heaven, and whatever you bind on earth will be bound in heaven, and whatever you loose on earth will be loosed in heaven'" (vv. 17-19). Catholics interpret "this rock" as Peter, whereas Protestants interpret it as Peter's declaration, which is the gospel (=good news of Jesus). I wrote an innovative book about this entitled Solving the Samaritan Riddle: Peter's Kingdom Keys Explain Early Spirit Baptism (2015).
The Pilgrims, as well as many other Europeans, departed from their countries of religious persecution, which was orchestrated mostly by the Inquisitors of the Roman Catholic Church under the authority of the papacy, to make their home in the New World. Due to this history of religious authoritarianism in the church-states of Europe, the Plymouth Council banned Catholics from residing in the region. When the thirteen colonies became established, many of them led by Pennsylvania, they outlawed resident Catholics participating in politics. Philadelphia–meaning the city of "brotherly love"–was the site of the First and Second Continental Congress, in 1974 and 1975. Thus, religious freedom supposedly became established in the colonies. Yet many of them disallowed the supremacy of the Catholic pope by requiring oaths to that effect. And laws were passed against Catholic education.
Congregationalism was the dominant church affiliation in Massachusetts and Connecticut. Rhode Island eventually provided complete freedom of religion, thus including for Roman Catholics. By 1785, Pennsylvania, Maryland, and Virginia had relented in their opposition to Roman Catholicism by allowing its parishioners to participate in politics. Finally, complete freedom of religion had arrived.
My point in recalling this brief history about early, American, Colonial opposition to Roman Catholicism is that it was done mostly due to the Church's authoritarianism vested in its papacy, which William Barr now seems to be vesting also in the U.S. president whom he serves rather than him serving the people as his job title requires.