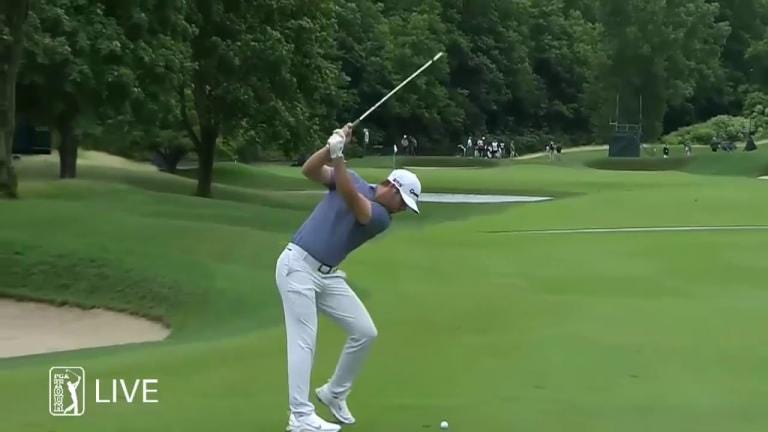 Twenty-one year old Matthew Wolff–playing in his first U.S. Open and second major–took a two shot lead over Bryson DeChambeau to enter tomorrow's final round at the famed Winged Foot Golf Club in Mamaroneck, New York. Wolff scampered around like a wolf through the rough all day, hitting only two fairways in shooting a five-under par 65. Long-hitting de Chambeau reportedly only hit three fairways. So, Wolff is at five-under par 205. The first day he shot 66. This young guy knows how to golf his ball, and he doesn't seem to feel the pressure at all when he's in the lead.
When this tournament started, I said, "Hit the fairways, boys, or go home." I meant you'll miss the cut if you don't drive the ball in the fairway at this place. When I saw those leaders chopping the ball out of the rough all day and posting sub-par scores, I just scratched my head and said, "what game are they playing?"
That's because I played in the 1974 U.S. Open at Winged Foot that Hale Irwin won by two strokes with a seven-over par 287, and the weather conditions were mild. That rough was brutal, the fairways narrow, and that likely was the toughest venue of any of the dozen U.S. Opens I played in during my PGA Tour career, in which I missed the 36-hole cut only four times.
But former Tour player and TV commentator Paul Azinger said today on TV that on Tuesday the groundskeepers mowed the rough down a notch. That surely made the course play easier. When I played there, if you drove in the rough, it was like chopping your little white pellet out of a thick cabbage patch. You just laid up in the fairway and hoped you could get up-and-down for a par.
Those greens were fast back in 1974 too, just like they are now. Both Jack Nicklaus and I four-putted our first hole of the tournament. I don't recall ever four-putting in any other PGA Tour tournaments that I played in, which I think was close to 650. Both Jack and I hit our first putt from behind the hole, which was placed on the front side of the green. Since that green is uphill, our putts went past the hole and rolled way off the front of the green and downhill. That's because that first hole and several other holes at Winged Foot have what is called "false fronts," meaning the front of the green is uphill, as if that portion of the green should not be part of the green. It's a deceptive design feature that some golf course architects like to use. Technically, it wasn't a four-putt for me, and I think it may have been the same for Jack. I pitched my next shot unto the green. But we pros still call that a "four-putt."
Patrick Reed had taken the early lead today by three shots. He was scrambling and making putts all through the tournament until he reached the back nine today. Then his miscues caught up to him. He went six over par the first six holes on the back nine to card a horrendous 43 that side, dropping him eight shots behind Wolff.
Wolff is an NCAA champion who won on the PGA Tour tournament for his first time in only his third such tournament–the 3M Open in Minnesota last summer. Also, Wolff and DeChambeau duked it out weeks ago as the two leaders went down the stretch on Sunday at the Rocket Mortgage Classic, with DeChambeau emerging the victor. It was an exciting finish by the two most unorthodox-swinging PGA Tour players to come along in many years, and it may be more of the same tomorrow. Indeed, when Wolff swings, he looks like he is introducing a new dance style by shoving his right knee way out as a forward press, and then he swings like a ballet dancer up on his tippy-toes; whereas when DeChambeau swings, he looks like Arnold Schwarzenegger lifting a 300-pound barbell. You couldn't get any two guys looking more different when they swing.
But keep your eye on one of my favorite players who is in third place, only two shots behind DeChambeau–the sweet-swinging Louis Oosthuizen from South Africa, who is the 2010 U.S. Open champ.