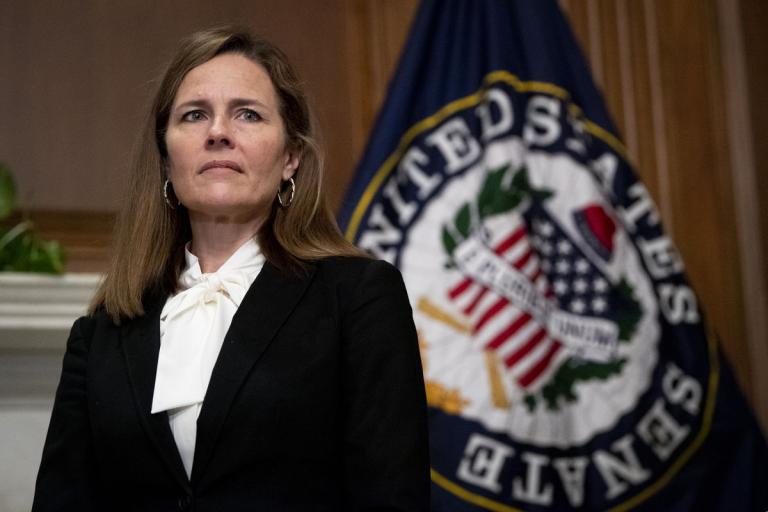 President Donald Trump has nominated Judge Amy Coney Barrett to replace the decease Justice Ruth Bader Ginsburg on the Supreme Court. Congress will soon hold hearings to examine her and decide whether or not to approve her nomination.
Amy Vivian Coney was born in New Orleans and grew up there in a devout, Catholic family. In 1997, she graduated from Notre Dame Law School and then became a law professor there. Eventually, President Trump nominated Barrett to the U.S. Court of Appeals for the Seventh Circuit in mid 2017, and Congress confirmed her months later.
It is being questioned whether or not Judge Barrett would let her Catholic faith interfere with her rulings on the highest bench in the land. But Ms. Barrett is more than just a Catholic; she has a significant background in the Charismatic Catholic group named People of Praise. But more importantly, The Washington Post last evening published an article revealing that both Judge Barrett and People of Praise have taken measures to disassociate Barrett's past from this group, which only consists of 1,700 people who identify their affiliation, not as a church but, as "a covenant community."
Amy Coney's parents were involved in People of Praise. So, she grew up in that association. And while Ms. Coney attended Notre Dame, she lived in the home of People of Praise co-founder Kevin Ranaghan and his wife, who housed Notre Dame students. Plus, Ms. Coney married Jesse Barrett in 1999, who also had a relationship with People of Praise.
People of Praise was founded in 1971 by Kevin Ranaghan and Paul DeCelles. They were young academics at the University of Notre Dame, located in South Bend, Indiana. It was a Charismatic Catholic group that sought more than formalistic religion. Like most Charismatics, they believed in speaking in tongues.
But their main thrust of People of Praise seems to be establishing a hierarchy in which women "submit" to men as "head." It likely is based on the Apostle Paul's instruction, "wives, be subject to your husbands," and "husbands, love your wives" (Ephesians 5.22, 25 NRSV). And that is the main issue that is now being questioned about Judge Barrett.
Throughout the history of Christianity, this Pauline injunction has sometimes been abused, in which husbands have wrongly treated their wives as inferiors. Paul's previous statement should lay that to rest, in which he says to all of the church at Ephesus, "Be subject to one another out of reverence for Christ" (v. 21).
I think People of Praise has probably been a good community of people of Christian faith even though I disagree with some major points about both Roman Catholicism and Charismatic Pentecostalism. (See my 2015 book, Solving the Samaritan Riddle: Peter's Kingdom Keys Explain Spirit Baptism). But it seems a bit disturbing to me that Judge Barrett didn't reveal her past association with People of Praise when questioned by Congress about religious affiliations, and People of Praise has made concerted efforts to remove website photos of Judge Barrett, or former Ms. Coney, in her association with this organization.