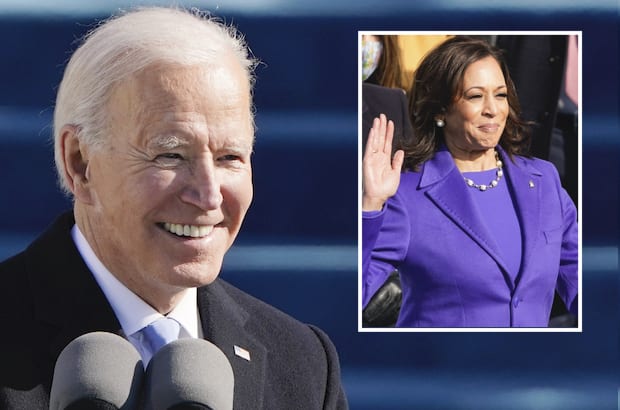 Joe Biden–the former U.S. Senator and eight years Obama's vice president–became the president of the USA yesterday in an outdoors ceremony at the Capitol Building on a bright, sunny, Inauguration Day in Washington D.C. President Biden delivered a speech that centered on calling Americans to unity, as in the United States of America.
This theme of unity was due to the divisive, four-year term of his predecessor President Donald Trump. This disunity had emerged most vividly only two weeks ago, on January 6th, with the Trump-inspired crowd that assaulted the very Capitol Building where these proceedings took place today. It had endangered the lives of all members of Congress gathered to certify the Electoral College votes that made Biden president.
Ever since the election, Trump had constantly charged that it had been "a fraud," "stolen," and that he had really gained more votes than Biden had so that ballots electing him had not been counted, were lost, or whatever even though there was no evidence to prove it. Plus, Trump and his supporters had filed nearly sixty lawsuits about this that all came up empty, and all fifty states had verified their election results.
There were some historic firsts to this Inauguration Day. First of all, President Biden's teammate, Vice President Kahala Harris, is the first woman to serve as vice president in the 243-year history of the USA. Second, she is the first U.S. vice president of color, being both of Black and Asian descent. And of course, she is the first female vice president who is a former federal prosecutor. Also, President Biden is only the second Roman Catholic to be the U.S. president, with John Kennedy having been the first.
In Mr. Biden's acceptance speech yesterday, he spoke often of his Catholic faith. That, of course, is in contrast to former President Trump having alleged publicly that his opponent in this year's presidential campaign, Mr. Biden, was "not religious." Everyone of any intelligence knew that was a lie since Biden had served his country as a politician for fifty years, and during this time he had repeatedly spoken of his Catholic faith.
During Biden's speech, he cited the foremost "doctor" (=theologian) of the Roman Catholic Church–Saint Augustine. Biden said, "Many centuries ago, St. Augustine, a saint in my Church, wrote that a people was a multitude defined by the common objects of their love." he said. He then explained that these common objects that define Americans are "opportunity, security, liberty, dignity, respect, honor and, yes, the truth." So, Mr. Biden challenged Americans today to adhere to moral principles in order to achieve unity among us.
Biden added, "each of us has a duty and a responsibility as citizens, as Americans, and especially as leaders, leaders who have pledged to honor our Constitution and protect our nation, to defend the truth and defeat the lies." He further stated concerning his victory over Donald Trump, "democracy has prevailed." He had said that especially because the FBI had warned of possible further attacks from extremists, and because of this fence barriers and 25,000 National Guard troops surrounded the Capitol Building and nearby area.
But this call to unity had a stark backdrop. Former President Donald Trump was just impeached six days ago by the U.S. House of Representatives for an unprecedented second time, and both in less than one year. Thus, House Speaker Nancy Pelosi will soon send the single article of impeachment–called "incitement to insurrection" for Trump's speech that allegedly inspired those rioters on Certification Day–to the Senate to likely conduct a trial of the former president and vote whether or not to convict him. It is unlikely that Mr. Trump will be found guilty because that would require 17 Republican Senators to join all fifty Democratic Senators in a required 2/3s vote of the entire Senate to convict him. But a public trial likely will be conducted, whereas the last time it was not, and the American public will be able to see on TV the arguments presented by attorneys and the witnesses heard, so that the nation will get a full story about Mr. Trump's speech that day and whether or not it did indeed incite the rioters.
To show the disunity our nation is suffering, former President Trump became only the third president in the nation's history to refuse to attend his successor's inauguration. He flew out just minutes before it, and this for the last time to Florida in Air Force One to hide out in his resort Mar-a-Lago, which had come to be called the Winter White House. Whether or not the now private citizen Trump will attend his Senate trial, which likely will be only a few days from now, and perhaps even testify on his own behalf, which his lawyers would surely forbid, remains to be seen.
For now, Donald Trump and his wife Melania are gone from the White House, and President Biden and his wife Jill will be occupying it. IMO, American democracy has survived four troubling years of Donald Trump because he desired to be a dictator, and now our democracy is in good hands with President Joe Biden.