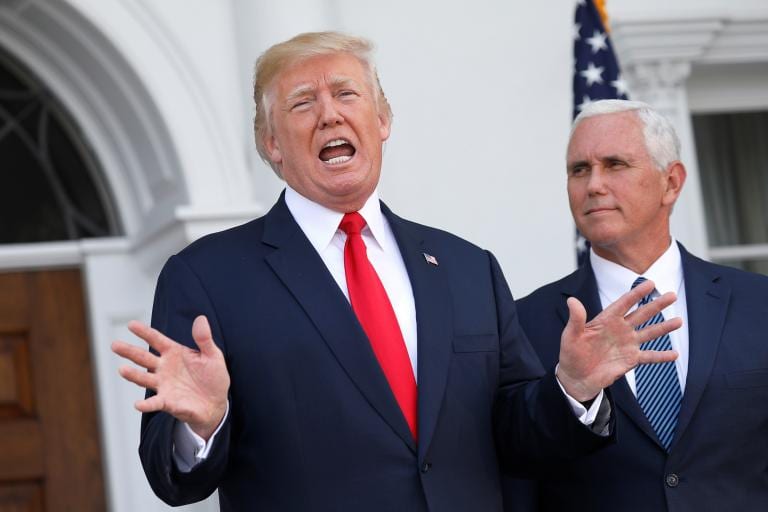 Last Wednesday, thousands of rioters stormed the nation's Capitol building where all members of Congress, both House and Senate, were gathered under the leadership of Vice President Mike Pence in accordance with the Constitution to certify the Electoral College votes and thereby declare that Democrat and former Vice President Joe Biden won the presidential election weeks earlier to become our next president on January 20th. The rioters were intent on disrupting the legislators from performing this American tradition that represents an important element in our peaceful transition of power. For many of the rioters, their purpose was to threaten especially Mike Pence to overturn the election results by declaring President Trump the winner.
President Trump had previously called for his millions of supporters (nearly 75 million voted for him in the election) to come to Washington D.C. for the day of certification and march on the Capitol as a show of strength, if not force, to cause the legislators, and primarily Mike Pence, to overturn the election results. Trump called it the "Save America March.' He told them to "be there, will be wild."
Come last Wednesday morning, a large group of President Trump's followers did indeed gather near the Capitol in the form of a political rally. Trump was present and spoke to them. He uttered his constant diatribe since the election, alleging that it had been a fraud and that he really won even though this had been proved false by state legislators and the courts due to nearly sixty lawsuits Trump and his supporters had filed about the alleged "stolen election" and lost.
Here is some of what Trump said in his speech to this crowd:
"Republicans are constantly fighting like a boxer with his hands tied behind his back. It's like a boxer. And we want to be so nice. We want to be so respectful of everybody, including bad people. And we're going to have to fight much harder. . . .
"We're going to walk down to the Capitol, and we're going to cheer on our brave senators and congressmen and women, and we're probably not going to be cheering so much for some of them, because you'll never take back our country with weakness. You have to show strength, and you have to be strong."
But Trump gave mixed messages, as he often does, this time about violence. In the context of committing violence, he said "different rules" now apply. He used much violent rhetoric yet said, "I know that everyone here will soon be marching over to the Capitol building to peacefully and patriotically make your voices heard."
Trump continued, "When you catch somebody in a fraud, you are allowed to go by very different rules. So I hope Mike has the courage to do what he has to do, and I hope he doesn't listen to the RINOs and the stupid people that he's listening to." RINO means "Republican in name only."
Trump also said of his vice president, "I hope Mike is going to do the right thing. I hope so. I hope so, because if Mike Pence does the right thing, we win the election. . . . And I actually — I just spoke to Mike. I said, 'Mike, that doesn't take courage. What takes courage is to do nothing. That takes courage.'"
Trump continued, "We will never give up. We will never concede. It doesn't happen. You don't concede when there's theft involved. Our country has had enough. We will not take it anymore, and that is what this is all about. And to use a favorite term that all of you people really came up with, we will stop the steal. . . .
"You will have an illegitimate president. That is what you will have, and we can't let that happen. These are the facts that you won't hear from the fake news media. It's all part of the suppression effort. They don't want to talk about it. They don't want to talk about it. . . .
"We fight like hell, and if you don't fight like hell, you're not going to have a country anymore."
Trump then said, "Now it is up to Congress to confront this egregious assault on our democracy. And after this, we're going to walk down, and I'll be there with you. . . . We are going to the Capitol."
Donald Trump talks like a Mafia mobster. See my blog post, "White House Mobster: 'Do Us a Favor,'" referring to Trump's Ukraine phone call.
The mob then proceeded toward the Capitol building. But the big liar Donald Trump was not with them, as he said he would be. By the time they got to the Capitol, they were chanting "hang Mike Pence." Five days later, today, this saying, "Hank Mike Pence," is now spreading on the internet.
Evangelical Mike Pence had been such a lap dog for this president, his sycophant-in-chief. Pence constantly was cleaning up Trump messes, mostly regarding what Trump had said, and praising him all the time. It struck me as so nauseating. In doing so, I believe Mike Pence was one of the many Republican enablers in the White House and Congress who made it possible for Donald Trump to continue degrading the office of the presidency and thereby harming our nation.
Another big enabler of mobster-talking Trump was Republican Majority Leader of the Senate, Mitch McConnell. He prevented interrogation of Trump with witnesses in the impeachment last year.
All of this indirectly brought about this insurrection of our nation's Capitol last Wednesday. That is, Trump should have been impeached and removed from office. Back then, I believed they were subjecting themselves to possible harm in the future because of being associated with Donald Trump, who I believed acted like a Mafia mobster with his constant threats of others.
Speaker of the House Nancy Pelosi called on Vice President Mike Pence this past weekend to invoke the 25th Amendment of the Constitution and remove President Trump from office on the charge of being unfit to carry out his presidential duties. That also requires a majority vote of Trump's cabinet. But Pelosi also said her Democratic caucus was preparing articles of impeachment of the president that they would present to the Senate perhaps today. All of this is even more controversial because of the short period of time, now only nine days, until Joe Biden will be inaugurated as our 46th president.
I'm not comfortable with calling on Mike Pence to invoke the 25th because it would put a target on his back due to some of these Trump people who our Arizona Senator John McCain called "crazies."
Trump reportedly has not phoned his Vice President Mike Pence since the Capitol assault Wednesday. Here, Pence could have been hanged, literally. Trump demands loyalty, but he doesn't give it in return. How's that for loyalty to the man, Mike Pence, who stood up for President Donald Trump more than any other American.
I don't approve much of Pence's job as vice president; but at least he's been doing the right thing since the election. I wish him well. As for Donald Trump, he needs to get what is due him regarding justice, if for no other reason than to protect the future of our democratic republic.