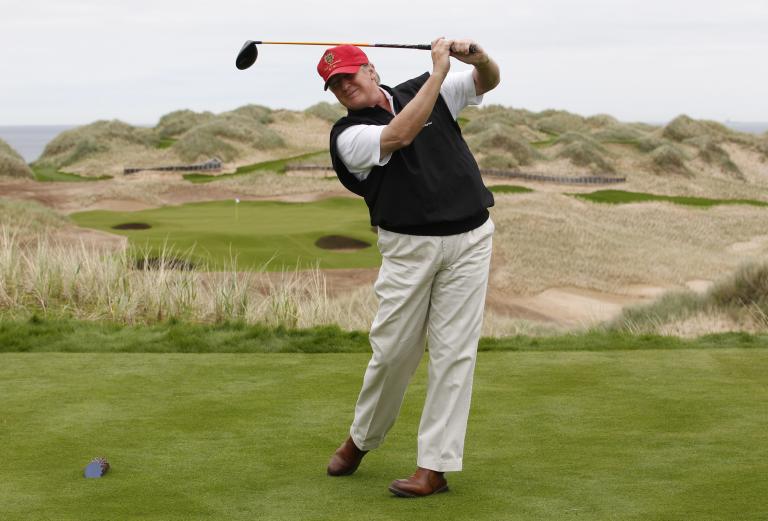 Donald Trump loves to play golf. He likes it so much that he can play golf at his own golf courses. He owns a bunch of famous, expensive, golf-and-hotel resorts. In fact, Donald Trump owns and/or operates seventeen different golf establishments. I used to compete on the PGA Tour every year at one of my favorite venues–the Doral Open at the Doral golf resort in Miami, and it is now named the Trump National Doral Miami.
When Donald Trump campaigned for the U.S. presidency, in 2015-2016, he criticized current President Barack Obama for "playing too much golf." In August, 2016, Donald Trump proclaimed at a political campaign event, "I'm going to be working for you, I'm not going to have time to go golfing, believe me. Believe me. Believe me, folks." So, he would be too busy doing his job of being president of the people, thus carrying out his campaign motto–Make America Great Again.
But after being president for nearly four years now, President Donald Trump has played way more golf than President Obama did. Fact checkers have been all over this. Trump has gone to his golf courses something like twice as much as President Obama went to golf courses during the same time period.
Last week, that genre President Trump calls FAKE NEWS reported about him playing golf multiple days while the nation is in a bind about this horrific health pandemic called COVID-19. The president did well in helping to get the vaccines made; but now the vaccination shots need to be put in peoples' arms to stem the spread of this deadly disease. The pharmaceutical companies are delivering the vaccines, but the actual vaccinations are lagging behind. Trump blamed it on the states as he was playing golf. He said it was the states' responsibility, as if his job is finished. But many experts have claimed there should be, and isn't, a federal policy guiding the whole operation.
Donald Trump also likes to talk about the future. He did that about this COVID-19 in its early stages. He said it was "nothing" and would soon go away, "like a miracle." He claimed it was no more than the common flu. Yet he told The Washington Post reporter Bob Woodward–who helped break open The Watergate case that caused President Nixon to resign in disgrace–that this COVID-19 was very "deadly." President Trump therefore said one thing about it and another thing, all of which didn't compute.
So, Donald Trump has a rather peculiar habit of hedging about future outcomes. And I expect he's this way about playing golf.
Before The Donald started owning all those golf courses, he used to play golf often at his favorite home course–Winged Foot Golf Club in Mamaroneck, New York, a suburb northeast of New York City. One of my main caddies on the PGA Tour used to caddie for him there. And that's where Bryson DeChambeau won the U.S. Open months ago.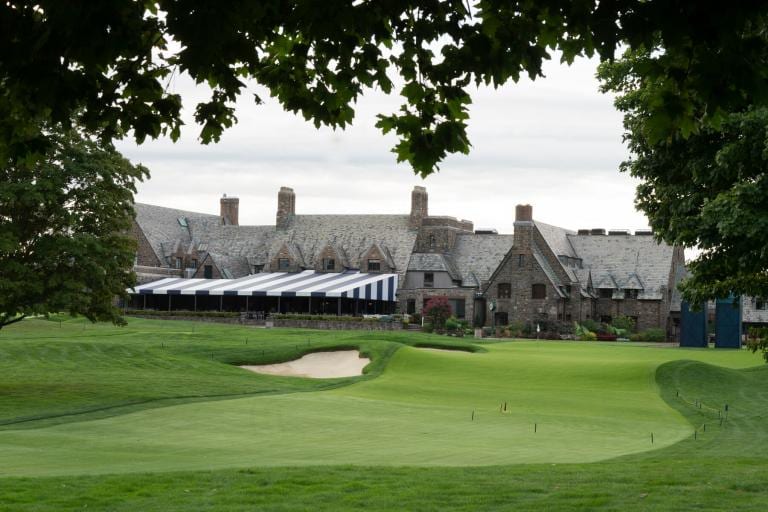 Winged Foot Golf Club has been host to several major championships in golf. A golf course doesn't measure up to that task unless it is a tough course with fast greens. When Winged Foot has hosted major golf championships, those greens have been lightning fast. I've blogged about the 1974 U.S. Open that Hale Irwin won there. On the first day of play, both Jack Nicklaus and yours truly four-putted the first hole right out of the gate. That green is tilted from back to front. The pin was located on the front of the green. We both putted our first putt right off of the green and down a hill. So, technically, we didn't four-putt. But that's how we pros count it.
Anyway, here's how I envision The Donald when he used to play Winged Foot's fast greens. On fast greens, you must hit the ball easy, that is, not too hard. And the ball takes much longer on fast greens to get to the hole if you hit the ball the right distance. That provides time for some chit chat, some commentary about what that putt is going to do. So, The Donald hits his putt from the back of the green, thus going downhill, on the first hole at Winged Foot and he starts his commentary like this about what the ball is going to do, "It could go in [the hole]. But it could miss on the right. Then again, it might miss on the left. But it also could be short. And come to think of it, it might miss, go off the green, down the hill, and I could four-putt like Jack Nicklaus and Kermit Zarley did. Who knows? We're just going to have to wait and see."
[Get Kermit Zarley's new book, Moses Predicted COVID-19.]