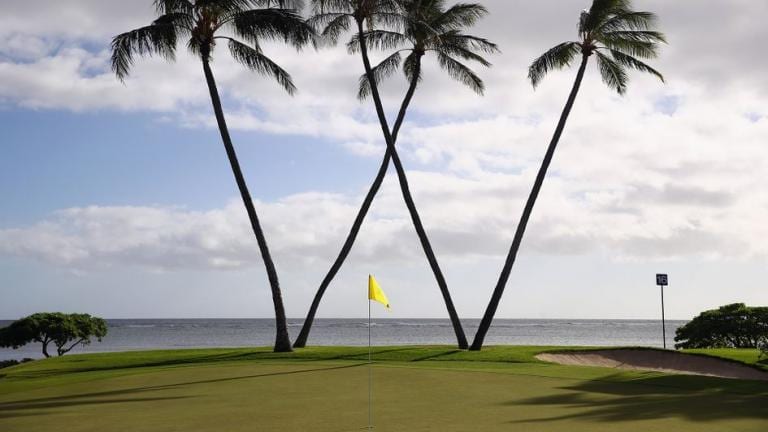 Korean American Kevin Na just won the PGA Tour's Sony Open at Waialae Country Club in Honolulu, Hawaii, by one stroke over Joaquin Neimann and Chris Kirk. He shot a five-under par 65 today in order to lift the trophy.
It was Na's fifth win on the PGA Tour. Yet it amazingly took the journeyman fourteen years to get his first Tour win. At 37 years of age, Na seems to now just be coming into his prime. For many years, he was knocking on the door constantly. But his nerves seemed to keep him from walking through the door to the winners circle. He credits his success of late partly to his "supportive" wife and being happy with having two young children.
Kevin Na has a such a warm and winsome personality. He has been one of my favorite people on the PGA Tour, though I don't know him personally.
Na is a really good putter and chipper. He drives the ball straight, but short by today's standards. My only criticism of his game is that he doesn't stay down very well when he makes contact with the ball and thereafter, thus "coming off the ball." That happens to some pros, as it did to me some in my career, especially when they get in contention the last day of the tournament. And that may explain partly why Kevin has been in contention a lot during his career, yet failed to take home the trophy. But not now. I think it did in my case, since I won five times on both the regular Tour and Champions Tour, yet finished second seventeen times. You've got to have nerves of steel to be a winner on the PGA Tour.
Kevin says he has to pick his tournaments that don't favor the long ball, such as this one at Waialae. I played this tournament at Waialae Country Club many, many times on the regular PGA Tour. I liked playing there–how you not since it is Hawaii?–but I never got myself into the hunt to win. I may have viewed that week on Tour too much as just a time to relax on the sandy beach more than working on my game on the grass.
[The above photo shows the 16th green–with the iconic, W-forming palms behind it, which represents the W in Waialae–at the Waialae Country Club.]