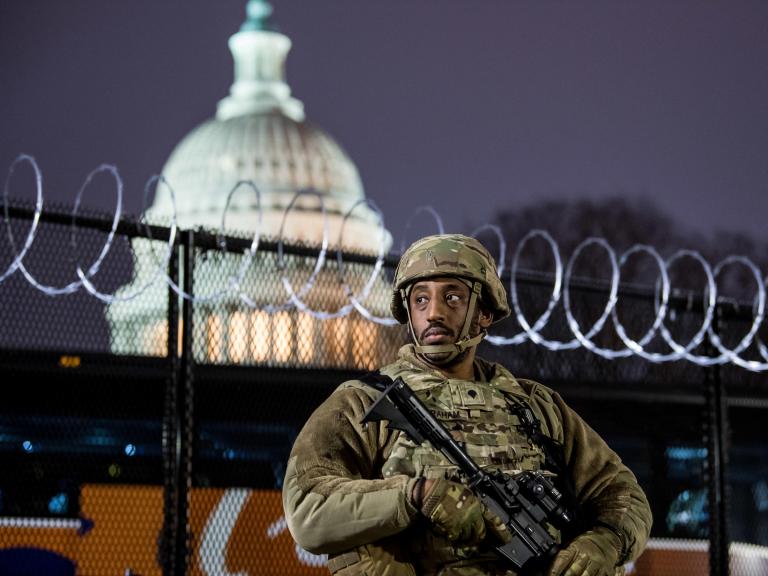 Security officials in Washington D.C. are preparing for Inauguration Day. On January 20th, Democrat Joe Biden will become the USA's 46th president in a traditional ceremony. And these officials are getting serious about preparing for possible violence. In the wake of the Capitol riot on January 6th, which resulted in five fatalities, the Department of Defense has activated 25,000 National Guard troops to secure the area.
Washington D.C. officials are also securing the Capitol Building and the surrounding area with fencing in anticipation of more violent attempts like the riot that occurred on Certification Day, when all fifty states certified that Biden had won enough electoral votes to become president. The FBI has now warned about much Internet traffic conversation indicating possible attempts to thwart the inauguration of the President Biden. This fortification of our nation's Capitol Building is being called "a green zone." Thus, it is being likened to the Green Zone in Baghdad, Iraq. That is a walled area surrounding U.S. military operations which was constructed during the Iraq War.
Authorities claim the U.S. has millions of right-wing extremists that could do harm to our elected government officials. These authorities also say the Internet indicates many of these extremists are planning to gather at all fifty state capitals around the country next Wednesday to further protest the election and inauguration of Joe Biden as president since they believe President Donald Trump's assertion that the election was a fraud and that he really won it. Many are planning to be armed with weapons.
Indeed, on April 30th last year, hundreds of far-right extremists, many of them being white supremacists, gathered inside the state capital in Lansing, Michigan, to protest the stay-at-home mandate imposed by Democrat Governor Gretchen Whitmer due to the coronavirus. Many of them were armed since Michigan allows open-carry inside the statehouse. But the situation turned violent when protestors breached the Senate gallery. President Trump, who opposed Democratic state governors requiring any form of coronavirus lockdown, had supported the Michigan protestors, tweeting "LIBERATE MICHIGAN." Months later, the FBI arrested thirteen of these protestors, accusing them of plotting to take Governor Whitmer captive and try to start a civil war.
So, nine states have now called up National Guard troops to protect their state capital buildings. And they are securing the perimeters of them with fencing and other barriers. For example, California already has installed fencing around its capital in Sacramento and activated 1,000 National Guardsmen to defend the area.
Washington D.C. is located in the District of Columbia, which is inside the State of Virginia. The governor of Virginia, Ralph Northam, announced at a press conference Friday, saying to potential rioters, "You are not welcome here, and you're not welcome in our nation's capital. And if you come and act out, Virginia will be ready."
Some authorities are saying that at least in the nation's capital, this fencing and other barricades likely will be permanent. That reminds me of my 18-part series I posted on my blog last spring entitled "Walls and Fences in the 21st Century" (click here to see the first post). I may include these posts as a chapter in my next book, which will be Book 4 in my series on biblical eschatology. It would be alongside a chapter I have in this book about end times biblical prophecies revealing that the world will be filled with walls and fortresses. Perhaps the fences and other barricades that we are now seeing being erected in our nation's capital, and many state capitals as well, will be part of the movement that has been going on in the 21st century throughout the world, in which walls are being erected for defensive purposes.