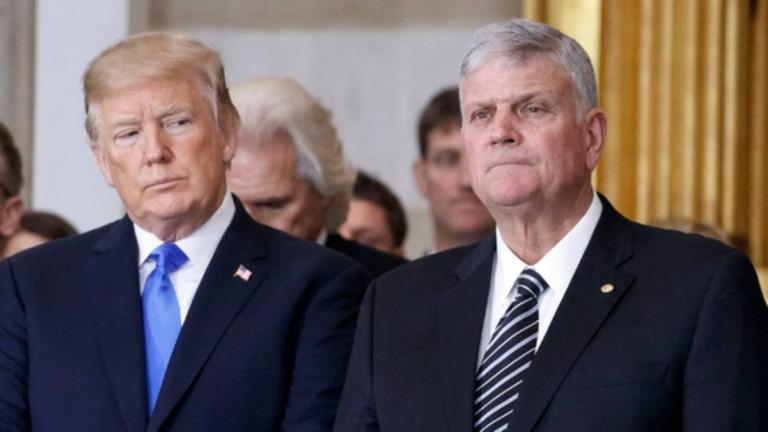 Evangelist Billy Graham's son, Franklin Graham, has been one of the most prominent Evangelical leaders in the USA who endorsed Donald Trump as president in 2016 and has continually and strongly supported him in it. In fact, Graham is among Evangelical and Pentecostal leaders who has said publicly that "God made Trump president."
For those who have been living in a cave somewhere, and therefore don't know the really big crisis the U.S. is going through, the U.S. House of Representatives voted two days ago, on Wednesday, to impeach President Donald Trump for the second time. A majority count is required, thus over 50%, in order for the article of impeachment to pass. The article passed the vote with all Democrats, who have a majority in the House (but not the Senate), voting for it. And this was the second time the House had impeached President Trump–which was an all-time first in our nation's history. At the first time, about a year ago, no House Republicans voted for impeachment. But this time, ten Republican Representatives did vote for impeachment.
This single article of impeachment was for President Trump's alleged "incitement to insurrection" at the rally on January 6th. Days prior to it, he had called for a rally to meet near the Capitol right before Congress began its certification process there at 1:00 PM ET. Trump uttered an hour-long speech that stirred up crowd sentiment. Trump told them to march toward the Capitol and "fight like hell" to "get back our country." He even said he would join them, which he didn't. The crowd then illegally stormed the Capitol in an assault that resulted in many injuries and five deaths. It could have been much worse. Many members of Congress could have been killed if not for the heroic acts of a few members of the very understaffed and unaided Capitol police.
The entire U.S. Congress had gathered at the Capitol building to conduct its traditional certification process of electoral votes in recognition of former Vice President Joe Biden defeating President Trump in the presidential election last November and in anticipation of Biden being inaugurated as president five days from now, on January 20th. Throughout the nation's 243-year history, this day of certification of the Electoral College vote count had been a mere traditional event without any real signification. And the vote count had never been seriously challenged as it was this time by over a 100 Republican members of Congress. It was because President Trump had been constantly alleging that the general election had been "a fraud," so that he had really won the election. Yet all fifty states verified the election had been fair and square.
Today, federal prosecutors filed an 18-page brief with the court alleging that certain leaders in the mob riot had planned and tried to "assassinate elected officials." The rioters had chanted repeatedly, "Hang Mike Pence, hand Mike Pence." And they yelled, questioning where he and House Speaker Nancy Pelosi were in order to find and assassinate them. These chants can be heard on telecasts of the riot.
Whether or not the Senate will convict President Donald Trump on the impeachment charge remains to be seen. But after he leaves office, he likely will face federal investigation and perhaps indictment for inciting a crowd to, not only do violence against elected officials but, sedition–the overthrow of the government of the United States of America.
Nevertheless, yesterday, Franklin Graham tweeted, "Shame, shame on the ten Republicans who joined with @SpeakerPelosi & the House Democrats in impeaching President Trump yesterday. After all that he has done for our country, you would turn your back & betray him so quickly? What was done yesterday only further divides our nation."
Graham continued in this tweet, "But the House Democrats impeached him because they hate him and want to do as much damage as they can. And these ten, from his own party, joined in the feeding frenzy. It makes you wonder what the thirty pieces of silver were that Speaker Pelosi promised for this betrayal." Graham was referring to Judas Iscariot betraying Jesus of Nazareth with thirty pieces of silver that led to his death.
Not only is this remark about Judas unbecoming of Graham, I think it is stupid. Judas was a disciple, a follower of Jesus, whereas Pelosi certainly has not been a disciple of Donald Trump. Thus, Judas betrayed Jesus as his Master, whereas the articulate Pelosi has not only not betrayed Trump, she has always been very vocal about her objection to him being president, alleging he is mentally, psychologically, and morally unfit for the job of the U.S. presidency. And Graham questioning what were Pelosi's thirty pieces of silver in betraying Trump, I'm not even going to go there. What a clown!
I hate to say these things about Billy Graham's son. But I'm doing it in defense of the gospel of Jesus. Such Christians are bringing ill repute upon genuine Christianity. Thus, I accept Franklin as a brother in Christ. But he is a brother who is tarnishing the Christian message as many others of his ilk are too. And Christians need to stand up, be counted, and not be silenced about this. All Evangelicals, of which I count myself, are not like this! It is because of these people like Franklin Graham that America is getting this idea about Christianity that it is Trumpism. I detest that! I don't even believe Donald Trump is a genuine Christian. And he is no King Cyrus as some of these Evangelical leaders have claimed.
Franklin Graham has admitted, even in a book, that he is not that intelligent. He tells how, as a young man, he applied to get into college and could not pass the required entrance exams. Thus, even though Franklin Graham came from a family that had the financial wherewithal to pay for him to attend college, and his father was the most famous Christian of the twentieth century by being such an accomplished public speaker who gained so many millions of followers who absolutely adored him, Franklin Graham was not even smart enough to get accepted into college.
I think a man of that low of intelligence would be wise to leave such high matters as political science to others smarter than him to figure out. And it is interesting to me that his dad, Billy Graham–who was a friend of mine who endorsed my first book (with his blurb on its back cover)–admitted in later years of his life that, although he had known quite well several U.S. presidents and spiritually-ministered to them privately, he had unwisely supported some of them publicly as president. This admission was prompted especially because of the Nixon White House tapes about the Watergate affair that led to Republican President Richard Nixon's resignation as president. Those tapes revealed more of the real Nixon, which embarrassed Billy Graham with Nixon's cussing and etc., which Nixon had kept private. So, Billy and the public didn't know that side of so-called Tricky Dick. It looks like Franklin did not learn the lesson that his father had to learn.
The National Association of Evangelicals stated recently, "The mob at the Capitol was provoked by leaders, including President Trump, who have employed lies and conspiracy theories for political gain. Evangelicals are people who are committed to truth and should reject untruths." AMEN!
See my previous posts criticizing Franklin Graham's endorsement of Donald Trump as president: "On the Charlottesville Riot," "Franklin Graham Defends President Trump," and "Did Franklin Graham Put Donald Trump in the White House?"