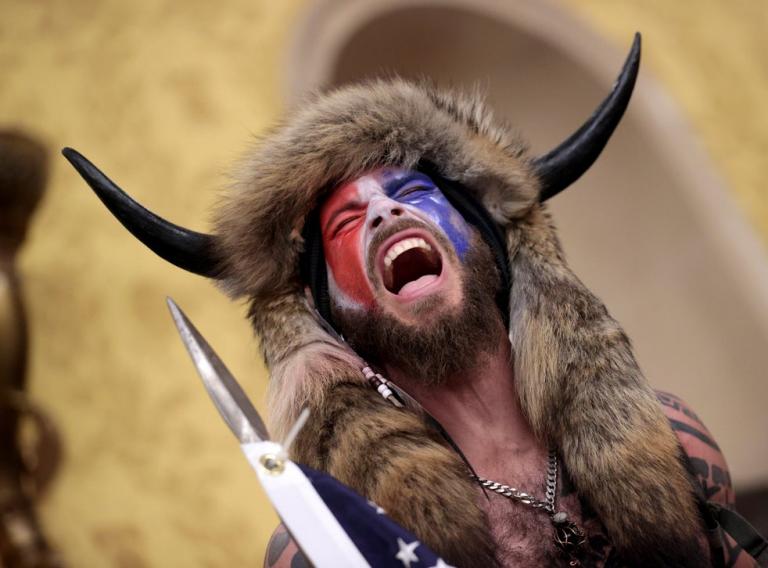 Federal prosecutors today revealed their new, 18-page, court filing which alleges that rioters who stormed the nations' Capitol nine days ago were planning to "capture and assassinate elected officials." The above photo shows one of them rioting in the Capitol.
He is Jacob Anthony Chansley, a.k.a. Jake Angeli, who says he "trusts in God." I blogged about him days ago, showing this headshot of him yelling in the Capitol while adorned in a fur hat made of coyote skin with two buffalo horns protruding from it and his total face painted red, white, and blue. These colors of the U.S. flag obviously are intended to portray the 33-year old Chansley as an American patriot.
Who is this guy? A quick internet search does not reveal anything about Angeli/Chansley having an actual occupation. I live near Phoenix, Arizona, and Chansley resides here in Phoenix. Thus, he must live only a few miles from me.
Arizona has been sort of a hotbed of conservative Republicanism. Chansley is a proponent of the QAnon conspiracy theory. He is sort of well known around here by some, and he characterizes himself as a "QAnon Shaman."
Angeli/Chansley has been arrested and charged in the prosecutors' document. The filing asks the judge to further detain Chansley. It also states, "Strong evidence, including Chansley's own words and actions at the Capitol, supports that the intent of the Capitol rioters was to capture and assassinate elected officials in the United States government." So, these prosecutors must have audible recordings and video of Chansley saying and doing actions in this regard. Moreover, the strong evidence includes a note that Chansley wrote, signed, and left in the Capitol for Vice President Mike Pence on his desk that says, "It's only a matter of time. Justice is coming."
The filing further states that the charges against Chansley "involve active participation in an insurrection attempting to violently overthrow the United States government." It adds rather alarmingly that the "insurrection is still in progress." The "insurrection" refers especially to the article of impeachment that the House voted on Wednesday which calls the riot on the Capitol an "incitement of insurrection."
Soon after the riot, Chansley came home and then turned himself into the local FBI. He later to reporters, "I trust in God and I know that I didn't do anything wrong. And even if I was arrested, wasn't Gandhi arrested a lot? Wasn't Martin Luther King Jr. arrested a lot? Wasn't Jesus arrested? I put my trust in God, not the government."
U.S. Marshal David Gonzales, to whom the FBI here turned Chansley over to, sent him back to the nation's capital and said, "he will face charges that could keep him in prison for 'years and years.'" But Chansley has been saying repeatedly that he only followed the directions of President Donald Trump in going inside the Capitol. It has now been reported that Chansley has made a request to President Trump to pardon him.