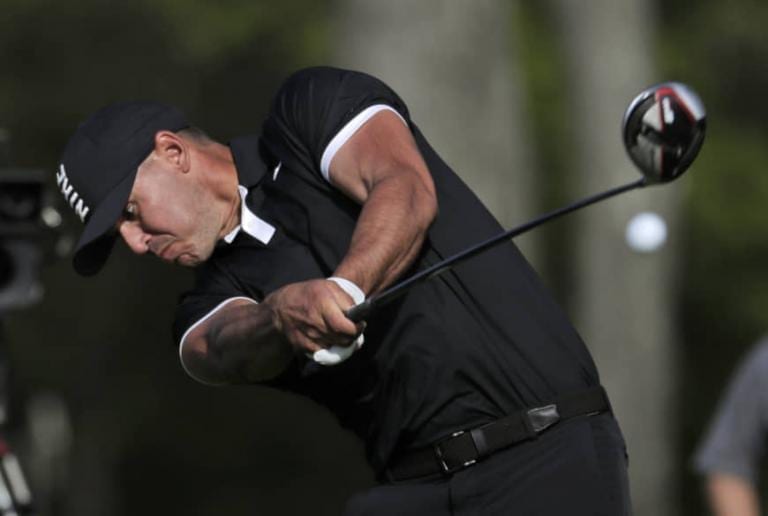 Superstar PGA Tour player Brooks Koepka, a four-time major winner, had been struggling with orthopedic issues for over a year. And even though he missed his last three PGA Tour cuts, he came from behind today to win the Waste Management Phoenix Open for the second time. He admitted in his victory speech afterwards that his physical ailments were causing him to have some doubts about whether or not he could ever get back into the winners circle.
Koepka won with an awesome pitch-in from 98 feet for an eagle on the tricky little par-four, 334-yard, 17th hole at the Stadium Course at TPC Scottsdale. It vaulted him into the lead for the first time. He then cruised to victory with a par on the 18th to give him a 6-under par 65 today for a 19-under par 265 to best South Korea's K. H. Lee (68) and Xander Schauffele (71) by one stroke.
The highlight of the day was indeed that 17th hole. Leader Xander Schauffele splashed his tee shot into the pond adjacent to the green on the left side. Jordan Spieth, who took the lead yesterday with a 61, rolled his tee shot across the very lengthy 17th green to see the ball barely roll off the back side of the green and down the slope into the watery grave.
James Hahn, who played right in front of these leaders, jumped out of the gate to take a three-stroke lead starting his back nine. But it looked like he fell into one sinkhole after another until he disappeared alone back in 10th place.
Koepka really had a difficult shot when he pitched in. He had missed his drive to the right of the 17th green. The pin was tucked kind of back right. Any shot in which the ball rolls past the hole with not much speed can roll right off the green, and if it does it will roll down the slope and into the water. So, Koepka had to land his pitch short of the green and bounce the ball up onto the green. The ball then rolled perfectly straight and into the middle of the hole at just the right speed.
So, muscle-man Brooks Koepka is back, and the rest of the future fields better look out.