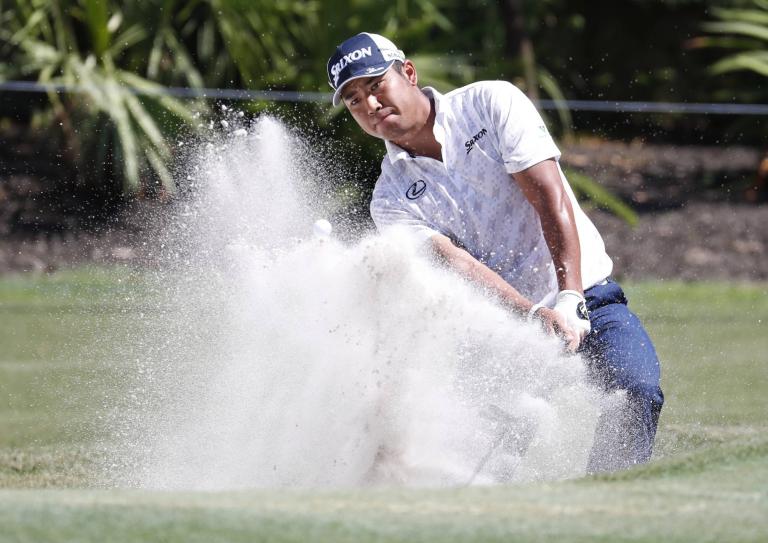 PGA Tour player Hideki Matsuyama golfed his ball brilliantly at Augusta National Golf Course today in shooting a seven-under par 65 to take a four-stroke lead into the final round tomorrow at the coveted Masters. Hideki finished at an 11-under par total of 205 for three rounds. No Japanese player has ever won any of the four major championships in professional golf, of which the Masters in one of them. So, Matsuyama–who is Japanese and does not speak English but must have an interpreter with him at all times in PGA Tour tournaments–is on the brink of setting golf history.
The leaders were closely bunched throughout much of the day today, with Justin Rose staying in front, usually by only one stroke. Then foul weather caused about an hour delay. Hideki was asked after his round today what he did during that hour at the clubhouse. He said he wasn't there; rather, he sat in his car and looked at his smart phone the whole time. Wow! I guess the Japanese have a smart phone addiction like a lot of us Americans do. I've played tournaments in Japan three times, and I can tell you that the Japanese marvel at gadgets like electronic devices.
Anyway, when the players returned to the course, Matsuyama caught fire and shot six birdies his last eight holes to distance himself from the field. He seems to be a guy who doesn't get flustered with his game when things don't go right. He's a pretty cool and calm player. But there are some star players who will be trying to catch him tomorrow. Four players are tied for second place at 7-under par totals. They are the new and young sensation Will Zalatoris, Xander Schauffele, who seems primed to win a major someday, Australian Marc Leishman who seems the same, and the 2013 U.S. Open champion and the most experienced, the UK's Justin Rose. Will Matsuyama be able to withstand the intense pressure to become Japan's first major golf tournament winner?