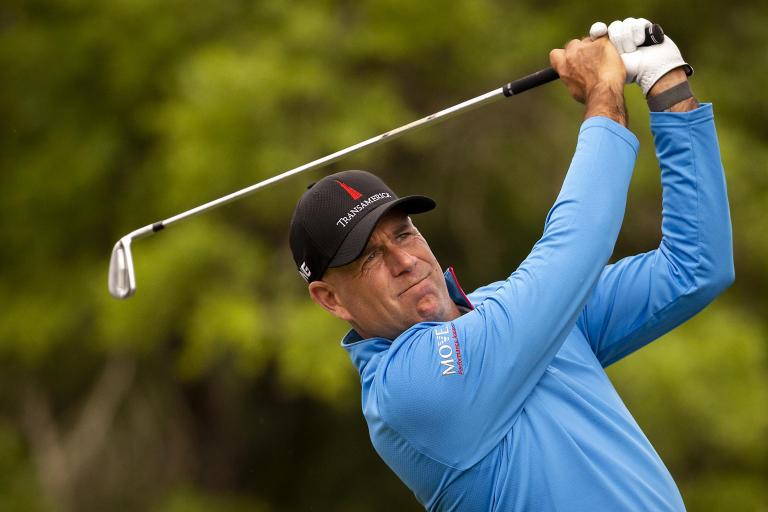 Stewart Cink–who is six feet, four inches tall, and forty-seven years old–won his eighth tournament today on the PGA Tour in a twenty-five year career out there. It was the RBC Heritage held at Harbour Town Golf Links on Hilton Head Island, South Carolina, where he had won before.
Starting today with a five-stroke lead, Cink cruised to an easy one-under par 70 with no serious challengers to finish four strokes ahead the field at a 19-under par 265 total. Emiliano Grillo and Harold Varner III finished tied for second.
Stewart Cink had six wins on Tour and then went twelve years without a win until he captured two titles this season: today's Heritage and the Safeway Open in Napa Valley, California, last September.
Balding Cink also is a major winner, having won the British Open in 2009. What he is most remembered for in that event is not that he won it but that he defeated 59-year old superstar Tom Watson in a four-hole playoff when most of the golfing world was rooting for Watson. It was mostly because if Watson would have won it, he would have established a huge record in pro golf. The oldest winners of the four majors in pro golf have been Tom Morris (1867 British Open) and Jack Nicklaus (1986 Masters), both at the age of 46.
Today's Cink win was a family affair. His wife and two sons were present and one of them was his caddie. Stewart Cink also is a Christian who is public about his faith. He also attends the PGA Tour Bible Study, I think regularly. Some of his best friends on Tour are Christians, such as Zack Johnson. Stewart also is active on his Twitter account, with over a million followers, where he sometimes expresses his Christian faith.
Cheers today for the older guys on the regular Tour with this Cink win.