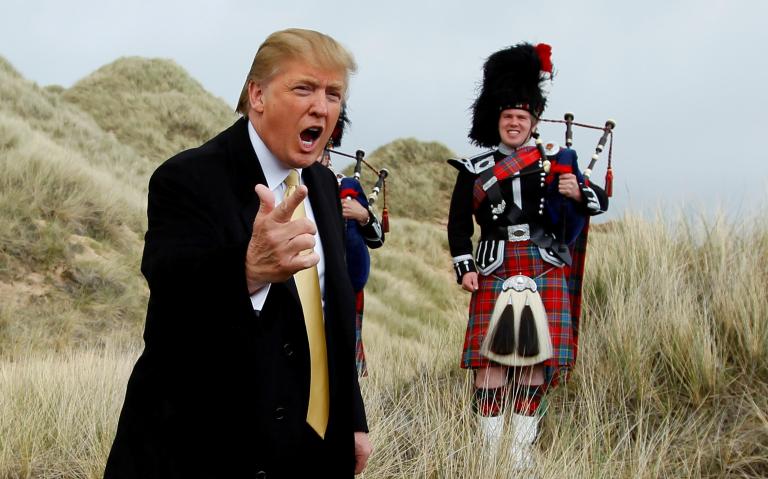 Through the years, there has been some questioning about whether or not Donald Trump has ever laundered money, which is a crime, via purchases through his Trump Organization or even sales of apartment units at his Trump Towers on Manhattan Island, New York. More particularly, did Trump do this when he purchased his two premiere golf course resorts in Scotland: Trump Turnberry, purchased in 2006, and Trump International Golf Links, purchased in 2014, which was later built on a 1,400-acre plot he bought? Trump's acquiring of these two Scottish properties has been suspicious since both were cash purchases for a total of $300 million even though the Trump Organization has been heavily indebted for decades. Indeed, Donald Trump has often called himself "the king of debt." Some of his critics have claimed for years that this has been evidence that he was never a very good businessman.
Trump's purchase of these two Scottish properties had been highly debated locally. Now, they are being seriously questioned again. Axios just reported three hours ago that Avaas, a global human rights group, just filed a petition today with Scotland's highest civil court, calling for a review of these two Trump purchases. The petition asks that the former U.S. president disclose how he paid for these two real estate deals. In Scottish legal parlance, these properties are being called "unexplained wealth order," which legislation was passed in 2018. If something was shady about these two deals, the court could return the properties to their previous owners.
Reuters reported today, "Trump, after decades of buying properties with debt, spent more than $300 million in cash purchasing and developing the Scottish courses, neither of which has turned a profit. Some Scottish politicians have cited mounting investigations into Trump's U.S. financial interests as grounds to scrutinize his business dealings in Britain.
"The British government introduced unexplained wealth orders in 2018 to help authorities fight money laundering and target the illicit wealth of foreign officials. The orders do not trigger a criminal proceeding. But if the Trump Organization couldn't satisfy the court that the money was clean, the government, in theory, could seize the properties."
Many Americans and others have questioned why Donald Trump, when U.S. president, was so chummy with Russia's President Vladimir Putin, suspecting that it was because Russian oligarchs laundered money with businessman Donald Trump before he became president. Perhaps we will learn more about this if the Scottish court considers this Avaas petition.