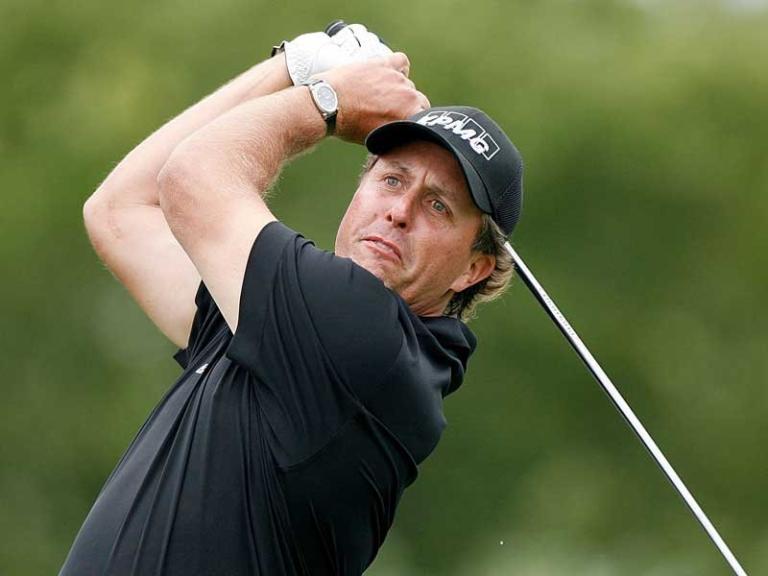 Phil Mickelson established a monumental record in golf today by becoming the oldest golfer to ever win one of the four majors in golf, it being the PGA Championship at the Ocean Course on Kiawah Island, South Carolina. (One of the four majors in golf, the British Open, reaches back 161 years.) Mickelson won by two strokes at six under par for a 282 total. His nearest pursuers were four-time major winner Brooks Koepka and one-time major winner Louis Oosthuizen, who finished tied for second. It was Phil's 44th win on the PGA Tour and his sixth major championship.
What an accomplishment! Phil was playing in the last twosome with Brooks Koepka. He has been playing like superman in the majors the last few years and was going for his third PGA Championship title. But Koepka wasn't quite himself today, finishing with a two-over par 74 while Phil coasted the last few holes to register a 73.
But it was no easy assignment for Lefty, one of pro golf's most popular players. That Pete Dye-designed golf course has trouble brewing all over the place, and Phil worked his craft pretty good under all that pressure. Mickelson and Koepka barely led the field most of the way today until Phil had a four-stroke lead near the end. What made the big difference was that on five holes today, there was a two-stroke swing between these two players, and every time it was in Phil's favor. So, these two alone provided a lot of fireworks as they went at each other. And smooth-swinging Oosthuizen, playing right in front of them, did his usual in the majors the final day by hitting the shots but hardly making the putts.
At fifty years and eleven months of age, Phil Mickelson became the oldest major winner by more than two-and-a-half years than the previous eldest major winner. And I made a mistake in my post about this yesterday. I said Nicklaus was the oldest major winner, at 46. I temporarily got mixed up–that age thing. I meant to say he was the oldest winner of the Masters. For, it is Julius Boros who held the record for 53 years until today as the oldest major winner in golf, at 48 years and four months. I should know! I was one of the leaders in that tournament and played with Julius in the third round. I finished fifth in the tournament. That was in 1968 at Pecan Valley C.C. in San Antonio, Texas. Now I'm REALLY showing my age.