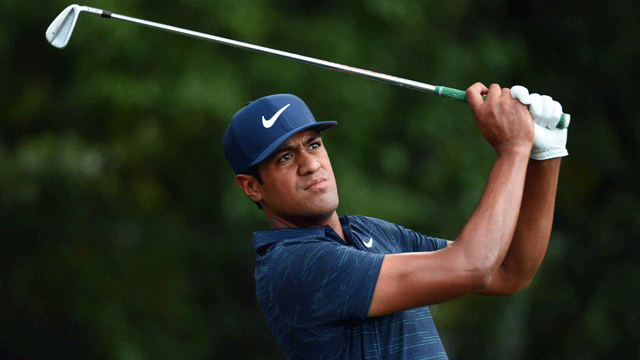 Journeyman Tony Finau outlasted Cameron Smith today in a four-hole, sudden-death playoff to emerge victorious in The Northern Trust tournament on the PGA Tour in Jersey City, New Jersey. It ended Finau's victory drought that had lasted over five years. He had been the winner of only one PGA Tour tournament even though he was constantly knocking on the door during that drought, with eleven top three finishes.
The Liberty National Golf Course, where the tournament was conducted, is such a picturesque venue that overlooks the water, the Statue of Liberty, and the skyscrapers on Manhattan Island.
The tournament's fourth and final round had been scheduled on Sunday as normal, but it had to be cancelled and move to today due to much rain and wind from the tropical storm Henri that moved across the Northeast this weekend.
Tony Finau is one of my favorite players on the PGA Tour. He lives in Utah and is a member of the Church of Jesus Christ of the Latter-Day Saints, otherwise known as the Mormon Church. He and his wife have five children together. Tony has been quoted by the media as saying, ""Everything I do is deeply rooted in my faith and especially in Jesus Christ,"