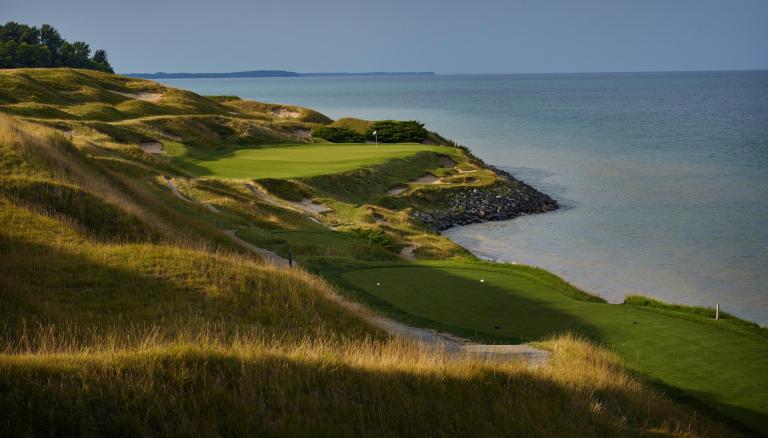 After Day 2 today, the U.S. Team is leading the European Team in the 2021 Ryder Cup at Whistling Straights in Wisconsin with a big lead: 11 to 5. Tomorrow, all twelve players on each team will play, unlike the first two days when only eight players on each team played. And the competition will be different tomorrow. It will be twelve single matches whereas these two previous days have been only two-man teams.
The big talk yesterday was Bryson DeChambeau hitting a monster drive on the double dogleg par five 5th hole, which normally measures 605 yards (the tee markers were set forward, making the hole measure 581 yards) on this treacherous golf course designed by Pete Dye. I knew Peter, and he was sometimes described by PGA Tour players as "diabolical" or worse. But it was all in fun because Dye and his wife were well-loved by Tour players.
In practice rounds this week, DeChambeau had decided that if he had a favorable wind on this 5th hole, he would aim at the green and therefore straighten out this dog's leg. Pete Dye surely never dreamed of such a thing. And when Bryson came to the 5th tee yesterday, sure enough, he had a 20-mile per hour wind aiding him. His playing partner, Scottie Scheffler, said afterwards that Bryson hit that drive "200 to 250 yards" to right of where everybody else hit their drive in order to hit the first leg. Bryson hit it perfect, right in the middle of a very narrow fairway bordered by Lake Michigan. Bryson had only a 75-yard wedge shot left to the pin. He hit that four feet from the hole and made the easy eagle putt for their team to win that hole.
However, the Scheffler-DeChambeau team still got beat one down by the European team of the two Spaniards Sergio Garcia and Jon Rahm, the #1 World Ranked player. Moreover, Garcia is now the winningest Ryder Cup player of all time, which is quite an accomplishment since he still seemingly has more years left of possible Ryder Cup play. It can be surprising how some players don't fair that well in the Ryder Cup, one being Tiger Woods.
The European Team has its work cut out for tomorrow if it is going to achieve the necessary 14.5 points to become the victor and continue its dominance over the Americans for the past two decades. Right now, it looks like they don't have a chance. Nevertheless, the European Team has been demonstrating much camaraderie and enjoying themselves with the fans, which is good for the game of golf–the greatest game on grass.