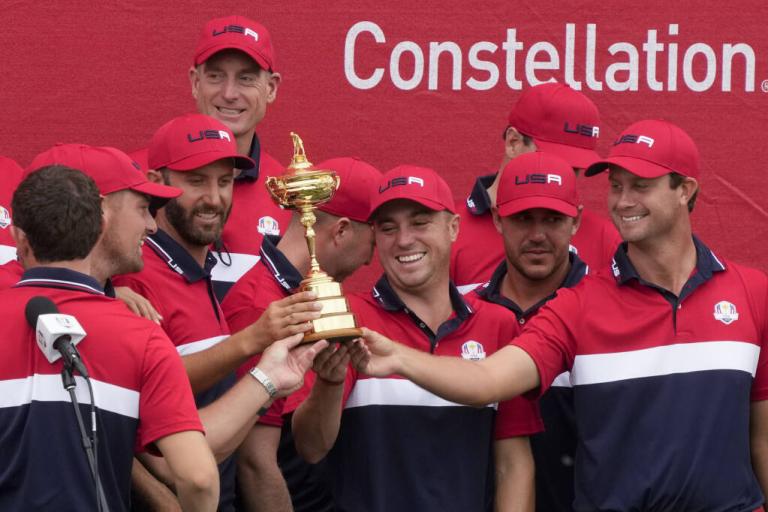 Just minutes ago, the USA Team trounced the European Team in the Ryder Cup, held this year in the USA at Whistling Straights, Wisconsin, with a score of 19 to 9. Such an overwhelming win sent a message to the opposition that Europe no longer has a lock on winning this biennial event, which they have done in the past 9 out of 12 times. Their success seemed to have been mostly due to a greater fighting spirit than the Americans had. But no more.
American Bryson DeChambeau did it again. He was the talk of the first day when he hit a monster drive, cutting of two doglegs, on the par five 5th hole with a 417-yard blast, leaving himself a 75-yard wedge shot which he easily turned into an eagle 3. On the first hole today, in his singles match against Spaniard Sergio Garcia, DeCahmbeau flexed his muscles for the benefit of the crowd, stepped to his teed-up ball, and blasted it onto the green of the 354-yard par four and made his 41-foot putt for an eagle 2. Mr. DeChambeau is becoming a controversial character on the PGA Tour, and he is also becoming an entertaining showman.
DeChambeau and Brooks Koepka put their feud to bed this week. And during the victory presentation today with other team members for photos, they even gave each other a hug.
Actually, the Team USA just has more talent now than does Team Europe. Although Spaniard John Rahm is #1 in World Ranking, Americans presently occupy the next four positions. Plus, Americans have been doing a lot of winning of the majors lately. Moreover, most of the best American players are younger than their counterpart European players, which also bodes ill for Europe's near future in the Ryder Cup.
However, if might have been different if this Ryder Cup had been played across the pond, since its venue rotates back and forth. The Europeans usually best the Americans when playing links courses in the old country, where you play a different game of pitch and run a lot such as at St. Andrews.
The star of the greatest game on grass this week was Dustin Johnson. He is presently ranked #2 in official World Ranking and has been #1 a lot in recent years. Johnson won all of his five matches in which he competed, giving Team USA 5 of its 19 points, although Johnson's partner Collin Morikawa contributed as well in team play.
The next Ryder Cup, in 2023, will be held at the Marco Simone Golf and Country Club near Rome, Italy.