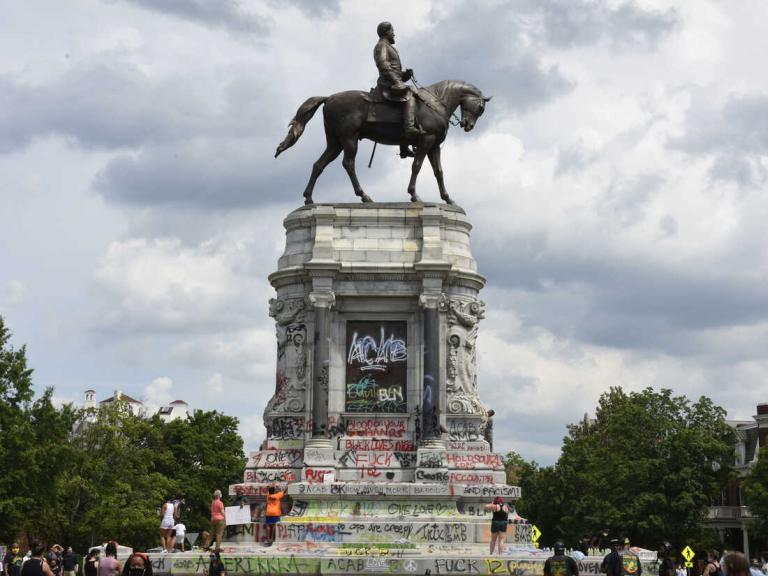 After years of debate in Virginia's state legislature, on Wednesday the majestic-looking, bronze statue of Robert E. Lee mounted on a horse, which stood on a raised pedestal in the city of Richmond, the capital of the Confederacy, was removed and cut into pieces. It is because there has been an awakening of sorts in our nation about honoring past American figures who were complicit in slavery. The movement that arose this spring, called Black Lives Matter, which was a reaction to corrupt police activities against especially African Americans, further ignited this awakening. It has of late involved largely the removal of statues in southern states. Robert E. Lee's statue in Richmond, Virginia, was one of them.
The New York Times' columnist Eugene Robinson, an African American, is one of my favorite political commentators. He has a piece today entitled "Robert E. Lee's statue is gone. Now can we dismantle the myth, too?" Robinson provides some true facts of history showing that Lee, the Confederacy's leading general in the Civil War, advocated slavery and wasn't the excellent military strategist that his reputation has claimed.
Robinson debunks "lie, after lie, after lie," as he puts it, about Robert E. Lee's false reputation that was created after the Civil War by "southern propagandists" who continued to uphold the Confederacy's revolt against the Union and especially against the Union's efforts toward abolishing slavery, called "abolition."
Many southerners and White supremacists have claimed that Robert E. Lee "was the greatest general in U.S. history." Robinson concludes this column piece by saying, "There was remarkably little fanfare Wednesday about the removal of the Lee statue — except from a Florida senior citizen who apparently believes there is still political hay to be made from the 'lost cause' myth.
"'Just watched as a massive crane took down the magnificent and very famous statue of "Robert E. Lee On His Horse,"' former president Donald Trump wrote in a statement. 'If only we had Robert E. Lee to command our troops in Afghanistan, that disaster would have ended in a complete and total victory many years ago.'
"Let's see, mounted cavalry vs. rocket-propelled grenades? Maybe Trump thinks the Taliban would have died laughing."