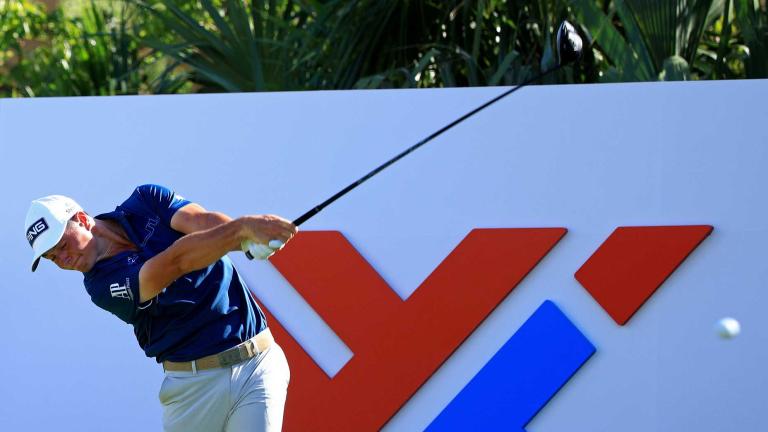 Viktor Hovland–a twenty-four year old Norwegian and graduate of Oklahoma State University–just shot 67 for a 23-under par total of 261 to win by four strokes over Carlos Ortiz the World Wide Technology Championship at Mayakoba in Playa Del Carmen, Mexico. It was Hovland's third win on the PGA Tour. Justin Thomas finished one stroke back of Ortiz for third place. Hovland became the first Norwegian to win on the PGA Tour when he won its Puerto Rico Open in 2020.
Hovland does two things that I think are very important in the golf swing. In golf parlance, it's called "staying down and chasing after the ball." By "staying down," I mean that he maintains his spine angle as his golf club head hits the ball and long afterwards in his upswing. By "chasing the ball," I mean his arms and golf club extend almost as a single unit toward his target midway on his upswing. All of this is well-captured in the above photo.
Now, I don't mean that this is the only and best way to swing the golf club. For example, #1 player Dustin Johnson also stays down really well after striking the ball, yet he has lots of release with his wrists so that he doesn't chase the ball at all like Hovland does. Dustin is also one of the longest hitters on the PGA Tour, and his huge release of his wrist cock in the impact area has a much to do with long hitting. But that does require extra good timing. On the other hand, Hovland's method of extreme extension through impact helps him in being a very accurate striker of the golf ball. Thus, Hovland should excel at golf courses that demand more accuracy, as it looked like El Camaleon Golf Club does with all of its lakes and seeming jungle if you miss the fairways.