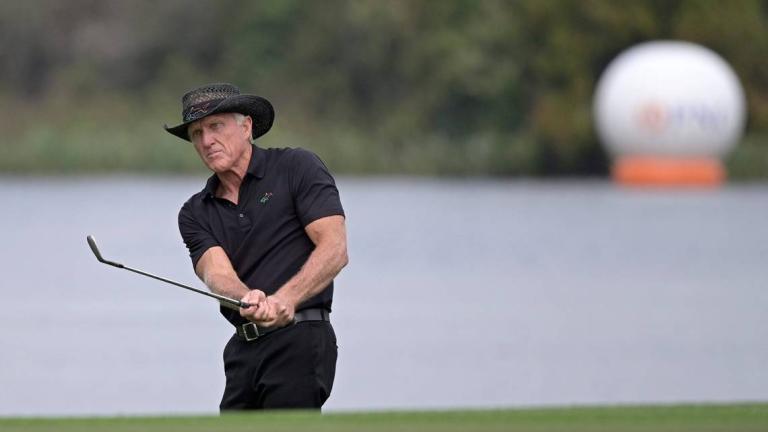 Past superstar pro golfer Greg Norman gave a letter today to PGA Tour Commissioner Jay Monahan with more threats from his LIV Golf, of which Norman is the CEO. It is about this so-called Super Golf League that Norman proposes and Saudi Arabia will financially sponsor to compete with the PGA Tour for participation by its membership.
Monahan said that in the mandatory players' meeting held Tuesday (the Tour has not had many mandatory players' meetings), "I told the players we're moving on and anyone on the fence needs to make a decision." Norman calls that "bullying" and a "threat." He claims any pro golfer legally can play wherever he wants. I don't think so.
Norman alleged in today's letter to Monahan, "for decades, the [PGA] Tour has put its own financial ambitions ahead of the players." That is ludicrous since the PGA Tour IS the players. It operates with an elected Board that sets policy and hires personnel such as Commissioner Monahan to implement that policy.
Norman got real petty when he further stated in the letter, "Why do you call the crown jewel in all tournaments outside the Majors 'The Players Championship' and not 'The Administration's Championship'?" Norman concluded his letter by saying, "Commissioner–this is just the beginning. It certainly is not the end."
IMO, Greg Norman in this letter, like Phil Mickelson the past week, is making a fool out of himself. At the least, Norman should have had a writing professional, including perhaps a lawyer, advise him in the writing of this letter. I believe it was totally his voice and his voice alone. But without players, this tour will go nowhere. Norman apparently has Saudi wealth behind him, but not the players. As Justin Thomas said Sunday (I'm paraphrasing), "Where are the players. They don't have anyone."
The Saudis are trying to overcome their now ruthless reputation with the most reprehensible murder of Khashoggi (reportedly having his body sawed up into pieces to surreptitiously remove it from the Saudi embassy in Turkey), and a lot of PGA Tour players obviously have a moral compass about that and will not allow the Saudis to use them to improve the Saudi reputation. Apparently, Norman has no such convictions.