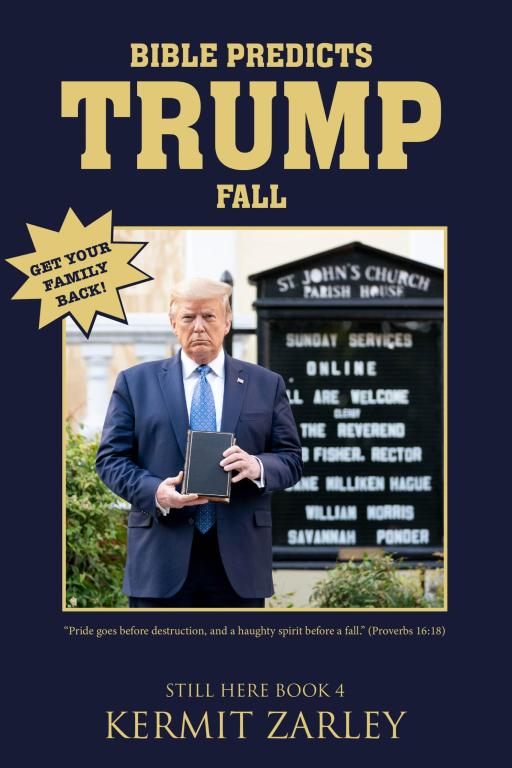 This is the front cover of my new book that is now available on amazon.com. It is Book 4 of my series STILL HERE. My plan for this series of nonfiction books that are primarily about Bible prophecy is 12 books. All but two of the 8 unpublished book manuscripts are about half finished. I expect to publish books 5-8 as one per year for the next four years. Learn more about these books at my website kermitzarley.com. The four published books of this series are now available on amazon.com as follows:
Book 1: The Third Day Bible Code
Book 2: Warrior from Heaven
Book 3: Moses Predicted COVID-19
Book 4: Bible Predicts Trump Fall
Books 1 and 2 are presently available on amazon.com only as e-books, but they should be available also as print books within a few days or weeks. Book 3 is available in both print and digital. Book 4 is now available only in print, but soon to be available also in digital. Thus, within perhaps 2-3 weeks, all four published books in this STILL HERE series should be available at amazon.com in both print and digital. I expect to offer all four books together for $70, thus a savings of $1.80.
Here is what the back cover of Book 4 says:
This book is a collection of posts the author wrote on his Kermit Zarley Blog about Donald Trump's presidency as it was happening. From the beginning, Zarley thought Trump was very arrogant, a big liar, unfit to be president, and a danger to democracy. Since Kermit is a lifelong evangelical, he also was alarmed that Trump's political base consisted of so many evangelicals. It was causing people to equate evangelicalism with Republican politics and its Trumpism. In contrast, the author posted on his blog, on May 20, 2016, "I think Donald Trump is a big bag of hot air ready to blow up like the Hindenburg blimp if he becomes U.S. president."
Zarley thinks Trump's Bible photo op on June 1, 2020, was the turning point in his presidency. Trump gave a speech claiming to be a law-and-order president. Minutes later, he posed with a Bible in front of a church. Kermit compares it to Babylonian King Belshazzar in the Bible. He held a great festival, drank wine from cups taken from Jerusalem's temple, and then saw a hand writing on a wall that pronounced the end of his kingship. Likewise, after Trump mistreated the Bible like that, he went AWOL on COVID and became a hypocrite on law-and-order by trying to overturn a fair election. He then incited the Capitol riot that resulted in death and destruction.
This book is prescient since the author often applied Bible proverbs and Jesus sayings to Trump while he was president that came true. They include, "When pride comes, then comes disgrace," and "pride goes before destruction, and a haughty spirit before a fall" (Proverbs 11.2; 16.18). Zarley concludes that Trump's incitement to insurrection and two impeachments represent a disgraceful downfall verifying that "every word of God proves true" (Proverbs 30.5).
Kermit Zarley is known mostly for his thirty-year, fulltime career as a pro golfer on the PGA Tour and its Champions Tour. He also co-founded and led the PGA Tour Bible Study which still thrives today. Kermit is a pioneering author of biblical studies and a member of the Society of Biblical Literature. This is his ninth book. To learn more, visit his blog and kermitzarley.com.